William Dart peruses a vibrant and exciting musical schedule for 2014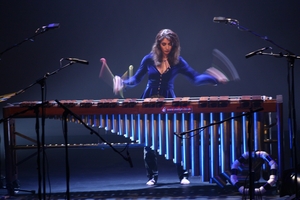 When it comes to announcing its musical season for next year, the Auckland Philharmonia Orchestra does it in style on home turf. A couple of weeks ago the Town Hall was packed with the orchestra's loyal concertgoers, to be tempted with samplings of music to come, conducted by Hamish McKeich.
While there was nothing quite so dramatic as the short taste of Ross Harris' Fourth Symphony a few years ago, there was sufficient to warrant signing up for another spectacular season.
The APO's New Zealand Herald Premier Series presents a dozen of the best. There are first-rank soloists with some, such as Christine Brewer, Dame Evelyn Glennie, Alina Ibragimova and Ning Feng, returning again. Best of all, they bring such attractive repertoire as sumptuous orchestral songs by Joseph Marx (1882-1964) and the Britten Violin Concerto.
The orchestra is happy to draw soloists from its own players, and so it should be.
Next year we have principal bassoon Ingrid Hagan with a John Star Wars Williams Concerto; principal viola Robert Ashworth airs a new Ross Harris commission and the four horns of the orchestra tackle Schumann's quirky Konzertstuck.
For Kiwi fare, Dame Evelyn Glennie presides over John Psathas' 2001 View from Olympus but apart from that, we can expect smaller-scale scores from Ross Harris and the APO's new resident composer, Kenneth Young.
Next year brings in a number of new conductors. Grammy-winning Paul McCreesh gives us Mozart and Elgar in May. The most intriguing must be John Nelson in March, with Messiaen, Respighi and Beethoven, while pianist Joanna MacGregor offers her own mini-recital mid-concert.
While the music in Bayleys' Great Classic series is more traditional, who would want to miss violist Maxim Rysanov's Tchaikovsky or cellist Torleif Thedeen's Schumann?
The Splendour series has morphed into Remember WWI, three concerts in which music director Eckehard Stier conducts favourites such as Elgar's Cello Concerto (with Li-Wei Qin), Stravinsky's The Soldier's Tale and extracts from Berg's Wozzeck.
At the launch, there was a glow of satisfaction when chief executive Barbara Glaser announced Tristan and Isolde as the Opera in Concert. The overture is familiar to many as the soundtrack for Lars von Trier's doomsday drama Melancholia. Next July, you can experience the whole Wagner opera with top-notch European soloists, but allow six hours for it (including interval and dinner break).
The New Zealand Symphony Orchestra's brochure is refreshingly sober after years of ad-agency overkill; Beethoven is on the cover, publicising the orchestra's mid-year festival of the complete symphonies under music director Pietari Inkinen.
The 14 remaining concerts feature two new local commissions, by Gareth Farr and Lyell Cresswell, while a welcome revival of Jack Body's Little Elegies is part of May's We Remember concert.
Guest soloists to watch out for are Hakan Hardenberger playing a Brett Dean Trumpet Concerto, Russian pianist Alexander Melnikov with Schumann, and American cellist Alisa Weilerstein with Prokofiev.
A performance of Haydn's The Creation under Nicholas McGegan will showcase soprano Madeleine Pierard, while Shostakovich 15 under Alexander Lazarev in May and Mahler 9 under Edo de Waart in August both promise satisfying symphonic experiences.
For fine music on a smaller scale, Chamber Music New Zealand has again set up a generous nine nationwide tours and Aucklanders should remember that Hamilton is just down the road for those alternative programmes.
In a line-up celebrating the string quartet, the Hungarian Kelemen Quartet give us Kurtag and Ligeti in the Fountain City and two months later, Canadian clarinetist James Campbell and the New Zealand String Quartet offer us Brahms with a doubling of Weber and Mozart a few evenings later.
At the end of the season, the final visitors, the great Borodin Quartet, slip in a rarity by Soviet composer Myaskovsky alongside Shostakovich and Beethoven.
June sees the return of Nikki Chooi, winner of last year's Michael Hill International Violin Competition; in his Auckland programme, with pianist Stephen De Pledge and cellist Ashley Brown, he replaces Hamilton's Ysaye and Prokofiev with a Smetana Trio.
Two highlights are provided by local players and composers. In August, pianists Diedre Irons and Michael Endres deliver Mozart and Ravel before bringing on two percussionists for Bartok's Sonata for Two Pianos and Percussion.
In March, watch out for the Beijing-based Forbidden City Chamber Orchestra. Its programme balances Chinese music with new works by Kiwis Michael Norris, David Downes, Jack Body and Dylan Lardelli.