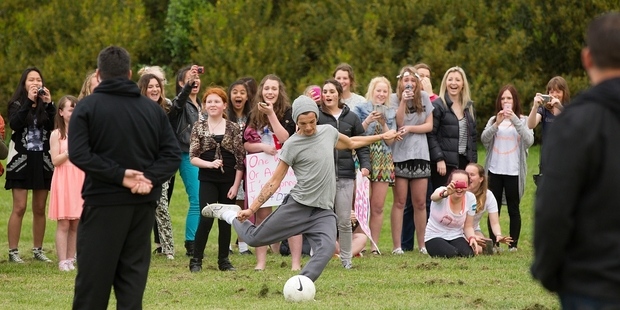 Dedicated dad Craig Brook suffered 7000 screaming, swooning One Direction fans last night as the noise in the CBS Canterbury Arena approached jet-plane engine levels.
But the 42-year-old U2 fan put up with his aching ears, even breaking into a toe-tapping "Dad dance", when the world's biggest boy band belted out their big numbers.
"The amount of grief I'm taking from my mates for coming here is unbelievable," Mr Brook said.
"But I had to do it for the kids," he said, smiling at his twin 12-year-old daughters Alisha and Kendall, who were enraptured by the show.
As much as he loves his daughters - and his wife, Kyleen, who was also enjoying the show - Mr Brook wished he had bought earplugs.
The packed crowd, mainly girls aged between 10 and 18, screeched in unbridled adulation as the English/Irish pop mega-group of Niall Horan, Zayn Malik, Liam Payne, Harry Styles and Louis Tomlinson kicked off their New Zealand tour.
It was near Beatlemania for the Gen-Y2K crowd.
A decibel meter reading inside the arena peaked at 113.9 decibels (dB). The average human pain threshold for noise is 110dB. Anything louder than 85dB can cause permanent hearing loss.
Mr Brook covered his ears to block out the screeching all around him.
"Where's the bar?" he joked.
As much suffering as the Dunedin car dealer was enduring, all those around him were enthralled by the experience.
"It's better than I could ever have imagined," said Lucy Milne, 14.
After an energetic opening set by 5SOS, the excitement and anticipation levels soared.
One young female fan said, "I'm so excited," to which her friend replied, "I'm so scared!"
Some fans were weeping with joy during the show.
Malik appeared to be the biggest hit with the girls, the decibel meter soaring every time he had a solo.
The lads interacted with their screaming, singing audience, utilising the large catwalk stage.
Earlier, they treated fans waiting for the Christchurch gig to an impromptu soccer game in a neighbouring park. Tomlinson and Payne had a 200-plus strong crowd screaming in delight with their football skills.
About 20 police officers and burly private security guards kept the crowds of fans back while they played, posed and waved for about 45 minutes.
One Direction play Auckland's Vector Arena tomorrow and on Sunday.
- APNZ