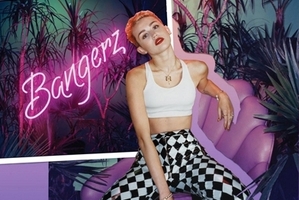 The problem with Miley Cyrus isn't the twerking, or the gyrations, or lack of clothes - her cheeky, coquettish approach has been part of the world of pop for decades. The problem is that all the controversial behaviour, and emphasis on the "good girl gone bad" storyline seems to be a smokescreen for some relatively generic music. She's one savvy pop star, because Bangerz is full of lyrical cliches, Twitter-speak and soaked in vocal processing, yet she's inspired more web traffic this week than anyone else on the planet.
Sure, she pulls off tracks that could be fillers on albums by Katy Perry or Ke$ha, managing to sound like both of them, but she establishes no firm musical personality of her own apart from reinforcing the self-involved brat character that seems to be working so well for her. She swears on Do My Thang, sings lines like "to my home girls here with the big butts, shaking it like we at a strip club" on We Can't Stop, and then acts all vulnerable and heartbroken on Adore You or Wrecking Ball. It's hard to take any of it seriously, but maybe that's her plan. The tracks clip along, diving through everything from power ballads to Latin-inspired hip-hop or a touch of country.
Perhaps there's a measure of appeal in a pop star who's so committed to being a McMusic-type teenage diva.
Stars: 2.5/5
Verdict: Achy breaky tart
Click here to buy Bangerz by Miley Cyrus
Follow @nzherald_ent on Twitter for all the latest entertainment news.
- TimeOut