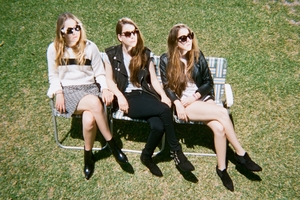 Every song on Days Are Gone may sound like the beginning of a track in your dad's record collection, but this trio of Californian sisters have created a wholly modern debut album of irrepressible, clever, vivacious pop. It has the easy satisfaction of a cold beer on a hot day, and is ready to be spun all summer long. Haim manage to be simultaneously languid and urgent - the combo of 80s R&B influences, with warm 70s guitar riffs, sharp drum patterns, and the unusually guileless vocals of middle sister Danielle make a truly engaging palette. References to Stevie Nicks and Phil Collins are warranted, though Haim neatly manage to avoid any notion of ironic homage - this is exactly the music connecting these daughters of the 80s.
They open the album with their three singles so far (Falling, Forever, and perfect confection The Wire), but there's plenty more on offer. My Song 5 is the most boundary-pushing track here, with its heavy guitar and electronic production. But If I Could Change Your Mind is a beautiful heartbreak anthem, Honey & I sounds like shards of sunlight flickering between the clouds and Don't Save Me will surely be a festival highlight.
In fact, every track has the strength of a single, which is what makes Haim so addictive.
Stars: 5/5
Verdict: Breezy brilliant daughters of the 80s
Click here to buy Days Are Gone by Haim.
Follow @nzherald_ent on Twitter for all the latest entertainment news.
- TimeOut