Chris Schulz revisits Nirvana's last and loudest album.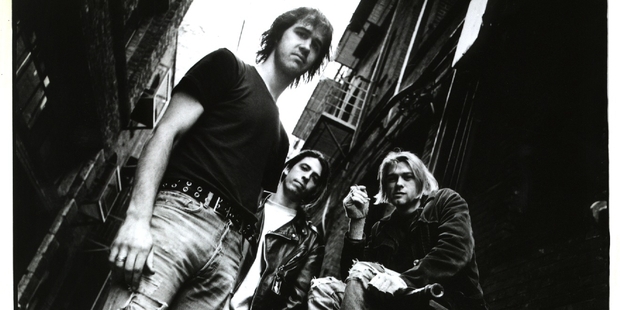 In a decade of loud, angry albums made by loud, angry men, In Utero might just be the loudest and angriest of them all. Even in the quiet bits, rage seeps out of every pore of Nirvana's third and final album - a record so confrontational, the band's label Geffen initially called it "unreleasable".
"What is wrong with me?" screams Kurt Cobain over the ragged feedback of Radio Friendly Unit Shifter. "You can't fire me because I quit," the troubled frontman spits on the unbearable aggression of Scentless Apprentice. Later, he sounds deflated, moping simply, "I'll take all the blame, I'll concede from shame" on plaintive album closer All Apologies. And only Cobain could fire up about drinking a cuppa on the superior guitar crunch of Pennyroyal Tea.
You can see why Geffen rejected it. The 1993 album's schizophrenic mood swings, bipolar energy levels and brutally black lyrics about cancer, broken hymens and umbilical nooses - and that's just from Heart-Shaped Box - make In Utero a compulsive, combative listening experience.
With notorious noisemaker Steve Albini at the helm, In Utero took Nirvana's quiet-loud dynamics perfected on Nevermind and expanded their boundaries at either end. It shook off the polish and embraced the dark, angry side of the band, while further indulging Cobain's love of DIY punk rock.
Add Dave Grohl's crisp, powerhouse drumming, and Krist Novoselic's iconic bass rumble, and it was a potent mix. Try the awesomely ragged fizz of album opener Serve the Servants, as Cobain delivers deliciously sarcastic lines such as "Teenage angst has paid off well, now I'm bored and old". Check out the furious two minutes of riffage and incoherent mumbling of tourette's, or the gloriously grungy whine of Very Ape. Feel the shivers go down your spine with Cobain's searing rage that ends Milk It.
All that, and you haven't even got to Rape Me, an obvious middle finger metaphor to Nirvana's record label who desperately wanted this to be Nevermind II. There's also a B-side called I Hate Myself and Want to Die. How's that for an epitaph?
Thankfully, 20 years on, In Utero has been given the re-issue treatment it deserves. There's a three-LP vinyl package that includes the remastered album, B-sides and beautiful artwork, and a two-CD package with all that, plus reworked bootleg faves, those contentious Steve Albini mixes, demos, a version of the album delivered in a "2013 mix" and a new instrumental, Forgotten Tune.
For the true hardcores, around $180 will buy you the full package: three CDs, the Live and Loud concert DVD capturing a blistering Nirvana MTV concert held after In Utero's release, and a giant 50-page book. It includes Albini's fascinating letter outlining his initial plans for In Utero: "I prefer to work on records that aspire to greater things, like originality, personality and enthusiasm ... I like to leave room for accidents and chaos."
Result: Albini helped Nirvana and Cobain deliver one final statement, an utterly brilliant and thrilling burst of creativity that captured pure grunge lightning and stuffed it into a grimy broken bottle.
But it's what came next that still hurts: a shotgun blast; Cobain's body found in a Seattle garage three days later; rip-off acts such as Seether and Silverchair that formed in the wake; Jared Leto pretending to be Cobain in weird YouTube vids; Courtney Love allowing her late husband's avatar to mime Bon Jovi songs in Guitar Hero.
Sacrilege, all of it, combining to deliver one of rock's most tragic stories that continues to make headlines to this day. But that's exactly what makes revisiting In Utero such an emotional and explosive experience.
Imagine what Cobain might have achieved by now if he were still alive today.
Stars: 5/5
Verdict: The best album of the 90s gets the re-issue it deserves
Click here to buy the 20th Anniversary edition of In Utero by Nirvana.
Follow @nzherald_ent on Twitter for all the latest entertainment news.
- TimeOut