Sarah Lang is embarrassed for the writers of a new sitcom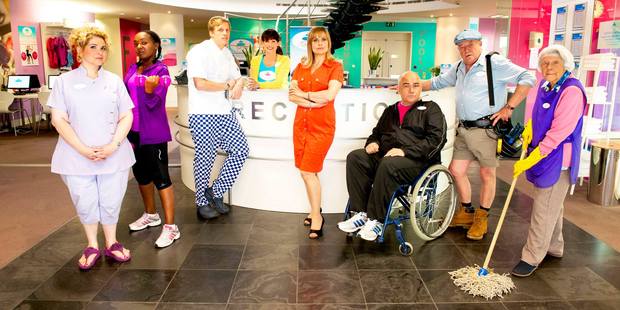 The hospital has been the backdrop to many a TV show so, in this age of gym bunnies, why not set one in a health club? The first episode of The Spa, a new British sitcom which premieres on TV ONE on Thursday, shows us why not. Or how not to do it, anyway.
Having just finished watching Breaking Bad - the best TV series of all time - I soon found The Spa sat at the other end of the spectrum. The characters feel more like cut-out paper dolls than three-dimensional people. There's bolshy boss Alison (Rebecca Front), ditzy receptionist Sally (Niky Wardley), long-suffering cleaning lady Rose (Vilma Hollingbery), wheelchair-bound, overweight aerobics instructor Marcus (Derren Litten), militant aerobics instructor Vron (Nadine Marshall), hippie therapist Davina (Debbie Chazen), and a caretaker called Eric (Tim Healy) who likes to wear inappropriately tight shorts. We also meet a client called Bergita, but I doubt she'll be back after getting a letter addressed to "Big Eater" that assessed her as "clinically a beast".
That wordplay is actually the high point of the humour. From here on in, a procession of bad set pieces makes it a very long 21 minutes.
Take the scene where Alison tells Eric to ditch the stubbies for roomier shorts. "The thing is I'm quite well endowed," Eric explains helpfully. Just in case we haven't got it yet, he puts it another way. "My tackle comes down to about here. My father were the same, that's why they call him Moby short, for Moby D ..."
But wait, there's more. Cut to Alison sitting behind her desk and Eric kneeling down beside her - initially out of the shot - as he talks about the access problems he's having down there. I'll spare you his exact words, but let's just say the receptionist who walks in doesn't realise Eric's fixing a jammed drawer. Watching this scene, I found myself groaning aloud and shielding my face in embarrassment - not prudish embarrassment, but embarrassment for the writers. Because the problem isn't an acting problem, it's a writing problem. When a character says her friend's joke is "incredibly bad taste", I write IRONY in capitals in my notes.
The Spa reminds me of the show-within-a-show on the hilarious HBO/BBC series Extras, where Ricky Gervais plays a struggling actor, Andy. Andy lands a role in a sitcom he knows is awful, and hates his caricature of a part, but needs the money and the exposure. Are The Spa's actors also cringing when they watch it, or do they just turn off the TV?
There's one almost half-decent scene. Rose, the old cleaning lady, is preparing to jump from the roof as Eric tries to talk her down. "I talk to people here and it's like I'm a ghost," Rose says, despair etched on her face. "They just don't see me." In a world where some people look right through the elderly - not to mention cleaning ladies - Rose is upset about the death of her next-door neighbour. "It was just that 20 minutes a day of human contact - another person validating your existence by asking if you watched Coronation Street."
Just as I'm thinking The Spa might not be a total write-off, Marcus plays a Pointer Sisters' song at full volume on his car stereo. It's called Jump - and Rose does. What was that about bad taste?
The Spa screens Thursday 10.05pm, TV ONE