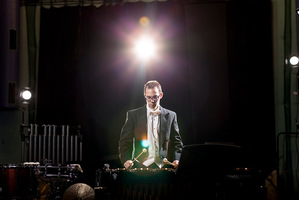 A week ago, in Manukau, Auckland Philharmonia Orchestra's Dance Project 2013 had scores of youngsters, choreographed by Moss Patterson, unfurling the whirl that was Takarangi. It was breath-taking, danced to the sounds of the orchestra's percussionists and a few non-percussive colleagues.
So, too, was the musicians' straight soundtrack concert in Takapuna on Monday night.
Principal percussionist Eric Renick was MC, with wit on the wry side and the ease of a good conversationalist.
In Casey Cangelosi's Glamour, he whisked around a table-top of instruments, against an implacable metronome. The epiphany came when you realised he was creating parallel rhythm worlds beyond the machine's strictures.
He warned us that Nebojsa Zivkovic's Trio per Uno was very tribal and very fun.
We were hypnotised by Renick, Jennifer Raven and Shane Currey around the table of a bass drum, fluttering and flicking with drumstick. Caught on a screen overhead, it had the visual zing of video art.
John Psathas' short Fragment, featuring Raven joined by pianist David Guerin, was a cool, Satiean sorbet.
Sam Rich joined the percussionists for the delicate trance time of David Lang's The So-Called Laws of Nature. After showing what tuned flowerpots, teacups and crotales could do, the musicians cast their spell.
The four tangos of Piazzolla's Histoire du Tango had tunes played by violinist Rachel Moody, clarinetist James Fry, cellist David Garner and flautist Sami Junnonen. All gave relaxed, idiomatic performances, with Fry having the slight edge on his world-weary Cafe 1930.
Behind them, Renick was a wonder on the five-octave Adams marimba. His technical facility was staggering; the sound like falling slow motion into a pool of viscous beauty.
Frederic Rzewski's Les Moutons de Panurge was the grand finale. The full ensemble roamed round their 65-note patterns, moving from clear unison to a vibrant, prismatic jangle. It was trance time again, with humour. A video of sheep in fastish motion played above and, during the piece, even some North Shore burghers happily contributed the occasional requested "Baaa" to proceedings.
This concert plays again on Wednesday night in St Michael's Remuera. Don't miss it.
What: Percussion and Friends
Where: St Peter's Church, Takapuna