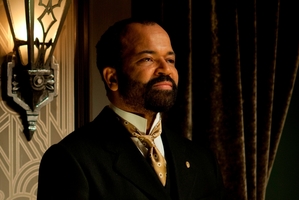 There's a new hoodlum in Boardwalk Empire to mix it with Nucky Thompson and Al Capone.
His name is Dr Valentin Narcisse.
"He is a doctor of divinity, confusion and mayhem," laughs Jeffrey Wright, the actor who plays the Harlem-based crime boss who travels down to Atlantic City and leaves a trail of bodies.
Dr Narcisse appears in tonight's episode of season four of the Emmy Award-winning drama TV series, which is set in 1924 and follows corrupt politicians, mob bosses and bootleggers competing in a power struggle in the prohibition era.
"Whenever a character gets a little bit more power, there's always someone else who wants to challenge that and that will be this great new character played by Jeffrey Wright who comes from the Cotton Club in Harlem," says the show's lead, Steve Buscemi, who plays Enoch "Nucky" Thompson, the corrupt politician with plenty of blood on his hands.
"He certainly causes a lot of trouble."
Wright, 47, has appeared in the James Bond films Casino Royale and Quantum of Solace and plays tribute Beetee in The Hunger Games: Catching Fire.
In Boardwalk Empire Dr Narcisse stirs trouble with another African American character, Onyx nightclub owner Albert "Chalky" White, played by Michael Kenneth Williams.
"Dr Narcisse is a philanthropist, a civil rights advocate and total charlatan and scoundrel," Wright says.
"He's able to justify his contradictions because he places himself at the head of the Negro race and whatever is good for him is good for the race.
"He can justify himself in that way and dismiss those, perhaps like Chalky, who he thinks don't measure up to the standard he has created."
Asked how Dr Narcisse would handle himself if transported into the kill-or-be-killed competitions, Wright laughs.
"Oh, he would do okay. Dr Narcisse would have no problems."
TV profile
Who: Jeffrey Wright as Dr Valentin Narcisse
What: Boardwalk Empire
When and where: 8.30pm SoHo
-AAP