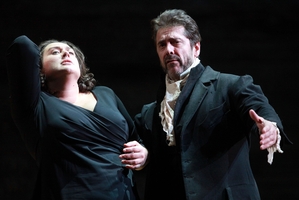 After some impressive recent concert presentations of Wagner by the New Zealand Symphony Orchestra and Auckland Philharmonia Orchestra, NZ Opera brings us the real McCoy with Matthew Lutton's high-voltage production of The Flying Dutchman.
The young Australian director makes all the right moves.
He wisely leaves sea and storm to the capable APO under Wyn Davies, evoking weather conditions that, outside of the Aotea Centre, would have you scrambling for your oilskins.
The Flying Dutchman sets off with male bonding. Sailors sing lustily in cramped quarters - their boxed cabin, floating on a sea of ghostly detritus, is the first of Zoe Atkinson's inspired sets.
Paul Whelan and Shaun Dixon sketch the captain and steersmen incisively; both are in fine voice, Dixon exceptional when singing of his love.
Jason Howard's Dutchman enters, a lean, haunted character. A little more basso resonance would have been good, but the Welshman's monologue has theatrical fibre, balancing fury and sorrow against a glorious orchestral backdrop.
The women, opening the second act, are not demurely behind looms, but toy with well-sculpted male mannequins. They dream and jibe - little wonder that Wendy Doyle plays Mary as a flustered factory-floor manager.
Orla Boylan's Senta does not strive for sweet innocence; her conception of the role, full-voiced and forthright, adds urgency as well as the human touch.
With the entrance of her would-be lover Erik (a passionately lyrical Peter Auty) we have the dramatic and psychological engagement that allows Lutton to take the opera through to its harrowing conclusion.
Lutton is unfailingly inventive. There are several visual coups, a number involving blood, as well as an erotic shipboard manifestation of the sailors' sexual frustrations.
Act Three finds the cast in wedding mode, sanctioning some rough-and-tumble to Wagner's Bavarian polka. Flashes of hoonish vulgarity occasion gasps and titters around me, although none can quite compete with the sight of the beefy Dixon in bridal gown. In fact, all this is a clever build-up for gothic thrills to come when the Dutchman's dead sailors walk again ...
The Flying Dutchman is an engrossing theatrical experience and, with only three performances this week, unmissable.
Music review
What: The Flying Dutchman
Where: Aotea Centre.