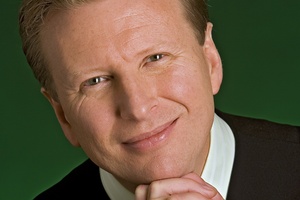 A week ago, the Goldner String Quartet cellist, Julian Smiles, extolled the pleasures of exploring Mendelssohn, and the composer's Opus 13 launched the group's concert on Thursday night.
This work is an extraordinary achievement for an 18-year-old composer, acknowledging yet not being swamped by the presence and example of Beethoven's final decade.
The Australians projected resolute calm in the opening chords, with an exquisite pianissimo echo; then, without warning, any complacency was dashed with a lashing of semiquavers, Allegro vivo.
Skilful sharing of Mendelssohn's material carried through to the clear, measured dialogues of the second movement. In the Intermezzo one was struck by the naturalness of Dene Olding's opening theme - one of those pretty tunes that reflect the composer's Jewish heritage.
The Presto finale bounded in, through a ring of tremolo fire, but the work took its leave with lingering Adagio reminiscences.
Olding introduced Gareth Farr's newly-commissioned Te Tai-O-Rehua. Referring to the teenage Mendelssohn, he went on to describe the 45-year-old New Zealander as "a little bit older but not too much".
True, Farr has lost none of his youthful zest for voyaging through a seemingly limitless world of sound.
The new work is a seascape, navigating, on four staves, the shifting moods of the Tasman. Farr scores coups with brilliant colour effects, starting with sul tasto violin and viola surrounded by eerie harmonics.
Carefully overlapped textures create momentum, shaping Farr's musical argument; later, those eager for the composer's signature wildfire were rewarded with triple-stops and pizzicato of percussive proportions.
After interval, Piers Lane joined the strings for Franck's magnificent F minor Piano Quintet. This is a big work, in time-scale, sound and emotions. The strings and Lane began by pitting the dramatic against the expressive. Between stirring outbursts of the full ensemble, the musicians tended those obsessive fragments, flickering between major and minor, that led American writer Paul Rosenfeld to describe Franck's music as evoking the world of the sunken sun.
After the power and might of the Franck, a rippling Dvorak encore hitched the sun back in the sky, in a glittering high noon.
What: Goldner String Quartet with Piers Lane
Where: Auckland Town Hall.