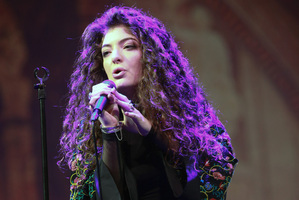 Kiwi singer Lorde continues to ride her wave of unprecedented success in the United States, sealing the coveted number one spot on Billboard's Hot 100 list with her debut smash Royals.
The 16-year-old, who also made her US television debut on Late Night with Jimmy Fallon yesterday, expressed her disbelief on Twitter.
"get the fkouttahere. royals is NUMBER 1 on BILLBOARD in the USAAA."
Her producer Joel Little said it was "the ultimate dream".
"I actually don't know what to do with myself right now aaargh," he tweeted.
Royals had been sitting at number three on the Top 100 chart. It jumped past Katy Perry's Roar and Miley Cyrus' Wrecking Ball to hit the number one spot today.
The achievement makes Lorde the youngest solo artist to top the Hot 100 since Tiffany, whose song I Think We're Alone Now took over at number one on November 7, 1987, when she was 16 years and one month old.
Lorde turns 17 on November 16.
She is now the only New Zealand artist to hit the top of Billboard's Hot 100 list.
OMC's song How Bizarre made number one on the Mainstream Top 40 chart in 1997. However, it did not make number one on the Hot 100 because it was never released as a retail single.
Neil Finn's Don't Dream It's Over had a top chart placing of number two, while Kimbra was a guest vocalist on Australian artist Gotye's number one hit Somebody That I Used To Know.
Lorde's first album, Pure Heroine, is getting rave reviews in the US, while an article in the New York Times said of her sold out concert at Webster Hall that she was "finding her way in a space she was creating for herself".
The article asked: "What is Royals by Lorde ... doing in the Top 10 alongside Miley Cyrus's Wrecking Ball and Katy Perry's Roar? Most of all, it's insisting that pop listeners don't have to settle for cliches."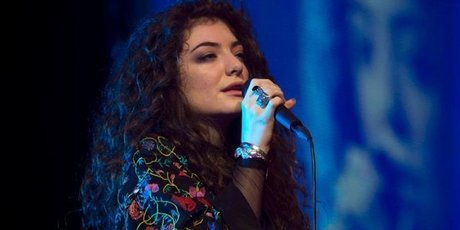 Billboard concluded Pure Heroine would usher in the "age of Lorde, in "a track-by-track review of its 10 songs.
Reviewer Jason Lipshutz said the album mixed the "shadowy sonics"of Massive Attack and the XX with an intuitive pop sensibility.
"September has been a profoundly great month for new female vocalists in popular music, but Lorde is easily the most vocally striking and lyrically thought-provoking. Pure Heroine is honest and addictive. Welcome to the age of Lorde."
Grantland's reviewer Emily Yoshida said Pure Heroine was the work of a "future superstar".
"It just so happens that Pure Heroine, as its title cheekily implies, is wall-to-wall pop pleasure and very possibly the best album of the year."
Lorde recently bore the ire of Miley Cyrus fans after Royals overtook Cyrus on the iTunes Charts.
Lorde told her fans on Twitter: "#1 on US iTunes. Even if it lasts an hour I feel HAPPY. Downside is all these Miley fans telling me they're gonna stab my rotting corpse."
She has also been caught up in a well-publicised spat with fellow pop sensation Selena Gomez after calling herself a feminist and saying she disagreed with the way women were portrayed in some songs.
"I love pop music on a sonic level. But I'm a feminist and the theme of her song [Come & Get It] is, 'When you're ready come and get it from me'.
"I'm sick of women being portrayed this way," she said.