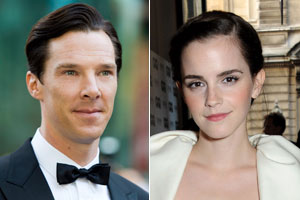 British actors Benedict Cumberbatch and ex-Harry Potter star Emma Watson have been named the world's sexiest film stars, according to British movie fans.
Australian stars Chris Hemsworth and Hugh Jackman also rated mentions in the poll conducted by Empire magazine, although no Aussie women made it into its Top 10.
Watson, 23, triumphed over US actresses Scarlett Johansson, Mila Kunis and Angelina Jolie in the survey of more than 50,000 movie fans.
Cumberbatch, 37, was followed by fellow British actors Tom Hiddleston and Man Of Steel's Henry Cavill in the top three.
Click below to see the top ten sexiest female and male stars: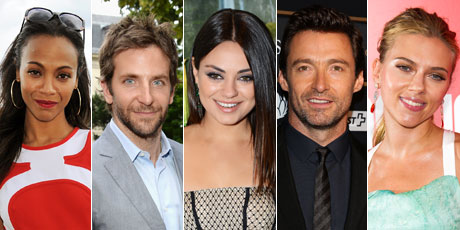 Canadian Ryan Gosling was fourth, with Robert Downey Jr in fifth place.
The top 10 was completed by Hemsworth, British star Robert Pattinson, Michael Fassbender, Jackman and US actor Bradley Cooper.
Watson was followed by Johansson, Oscar winner Jennifer Lawrence, Twilight's Kristen Stewart and The Dark Knight Rises star Anne Hathaway in the top five.
Cumberbatch, who plays the Australian founder of WikiLeaks Julian Assange in new film The Fifth Estate, has previously spoken about becoming an unlikely pin-up.
"It puts a bit of a spring in your step. It's nice, you swagger a little bit, it's enjoyable," he said.
"I've punched well above my weight this year... I find it hysterically funny...It's a giggle. I wield it with a massive smile."
The poll was conducted on empireonline.com.
"It's a great result for British stars... this list also reflects the continuing popularity of superhero movies: six of the top 10 men have played superheroes and five of the top 10 women have appeared in comic-book movies," said editor James Dyer.
Sexiest Male Stars of the Moment
1. Benedict Cumberbatch
2. Tom Hiddleston
3. Henry Cavill
4. Ryan Gosling
5. Robert Downey Jr
6. Chris Hemsworth
7. Robert Pattinson
8. Michael Fassbender
9. Hugh Jackman
10. Bradley Cooper
Sexiest Female Stars of the Moment
1. Emma Watson
2. Scarlett Johansson
3. Jennifer Lawrence
4. Kristen Stewart
5. Anne Hathaway
6. Emma Stone
7. Mila Kunis
8. Natalie Portman
9. Angelina Jolie
10. Zoe Saldana
- PAA