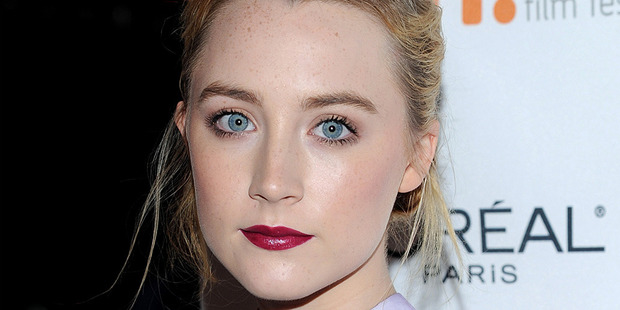 Could Saoirse Ronan soon be making a trip to that mythical galaxy far, far away?
Last month, Kellvin Chavez at the Latino Review set tongues wagging after he published a report claiming the 19-year-old Irish actress recently auditioned for a part in J.J. Abrams' upcoming Star Wars: Episode VII.
"About two weeks ago I got a phone call about who else went in to read for an unknown part," wrote Chavez at the time. "I was just told to hold off till it happened and so it did."
He added, "The girl that went in for a read is... Saoirse Ronan."
The website, citing "solid sources", offered no specifics of the part the Atonement star read for, but subsequent rumours pegged Ronan as auditioning for the role of Han Solo and Princess Leia's offspring.
"I tried to find out what Ronan went in [for] but they wouldn't tell me," he wrote. "During the conversation what was very interesting was that there will be a female villain part as well."
He continued, "Now, I'm not saying Ronan went in for that part, for all you know Ronan went in for the Solo daughter."
Now, according to Sky News, Ronan has reportedly confirmed rumours that she recently auditioned for a part in the highly anticipated space opera sequel.
But Ronan, who spoke to the news outlet while promoting her latest movie, How I Live Now, was quick to add that while she has read for a role in the movie, "so has everyone".
Beyond confirming the audition, Ronan refused to reveal any juicy details about the sequel, insisting the folks at Lucasfilm and Disney would "chop off her head with a lightsaber" if she leaked any news.
Speaking to Digital Spy, Ronan reiterated that "everyone on the planet" has auditioned for Star Wars: Episode VII, adding, "I don't have a part or anything like that".
Star Wars: Episode VII, which is based on a script written by Little Miss Sunshine scribe Michael Arndt, will begin production in early 2014, and is due out in cinemas in 2015.
Original trilogy stars Mark Hamill, Carrie Fisher and Harrison Ford are all expected to reprise their roles as Luke Skywalker, Princess Leia and Han Solo.
A recent report claimed that Benedict Cumberbatch has landed a role in the sequel.
Per a report published by Film Chronicles, Cumberbatch, 37, who worked with Abrams on Star Trek Into Darkness, will soon be the first name unveiled by Lucasfilm for the cast of Star Wars: Episode VII.
But a rep for the Sherlock star put the kibosh on the speculation, telling the New York Daily News that there's "no truth" to the rumour.
"There is no truth to the rumour Benedict has been cast in Star Wars," noted the spokesperson.
"I think the rumours are circling because JJ and Benedict have just recently had a wonderful time working together on Star Trek."
Cumberbatch also spoke out to tackle the rumours.
"Here's the deal, right. Here's the deal. No matter what anyone's said or is talking about....this is the simple truth," Cumberbatch told Access Hollywood at the 2013 Toronto Film Festival.
"JJ [Abrams] and I have worked together before. I would love to work with him again," explained the actor. "No offer has been made. And that's that. And that is that."
But despite the thesp's denials that he's signed on to join the Star Wars universe, the folks over at Latino Review maintain it's a done deal.
"Benedict Cumberbatch will be in the upcoming Star Wars movies," the website's Kellvin Chavez noted last month. "I don't care if he denies it till opening day. Technically, his part in Episode VII is very small but the role is much bigger in Episode VIII and Episode IX."
Most recently, Chavez also claimed that 300: Rise of an Empire star Sullivan Stapleton has read for a role in Star Wars: Episode VII.
And according to recent chatter, you can also add Sir Ben Kingsley and Daniel Day-Lewis to the rumour pile.
Stay tuned for updates, folks.
NOTABLE NUGGETS
And finally ...
* So have they or haven't they? Angelina Jolie's double rings spark secret wedding rumours.
* Elton John is in no mood for a close-up, swears at paparazzi in Hollywood.
* Mia Farrow drops a paternity bombshell.
* Rihanna doesn't have a "potential baby daddy" yet.
* Actress Marion Cotillard's PR agent brings on the snark at red carpet event.
* Michael Douglas and Catherine Zeta-Jones back together? Not so fast...
* Watch: Scantily-clad Britney Spears is in a whipping mood in her new Work B**ch music video.
* Katy Perry gets an apology from Barbara Walters.
* Zac Hanson spat on by tour bus intruder.
* Meet the woman who had Twilight poster tattooed on her back.
- Rumour Has It