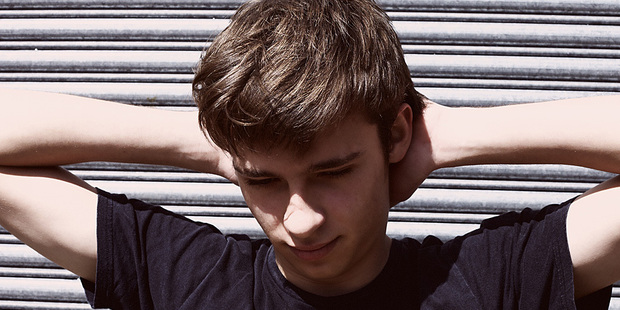 Harley Streten is just glad to be home.
"Being 21, and being a way from home for nine months of the year is pretty intense," he says with a laugh.
But that's the current lot for this Australian electronic music whiz, whose best known as Flume.
Because his strange, catchy and seductive tunes - that sit somewhere between downbeat and dub-step with the playfulness of fellow Australian act the Avalanches - have put him in demand at festivals around the world and gained him a solid fanbase.
"I've been to a lot of big places over the last year or so," he says, still sounding a little surprised himself.
"So it's going great and there's still a lot to do. It's firing along in the UK at the moment, on the Europe tour, things were very healthy over there, but I'm playing festival spots so it's hard to tell. It's definitely coming a long. But it's a big world out there."
And after that latest month-long European jaunt, he's just got back home to Sydney and settling back in to a normal routine.
"Although, I've got a bunch of meetings coming up. So I'm straight back into it, but it keeps me busy so it's cool."
Earlier this year he played Auckland's Laneway festival and on October 9 he does his first New Zealand headlining show at the Logan Campbell Centre (followed by shows in Wellington and Dunedin).
In his homeland he's a bonafide star, with debut song Sleepless getting him known in 2011, then surging and soulful follow up single Holdin' On was a cross over hit, and his self-titled debut album released late last year charted at No 2 (only beaten by One Direction's second album Take Me Home).
"That really surprised me," he laughs. "Because the majority of the album is instrumental so it's a completely different beast from One Direction."
His music isn't pop music by a far stretch. It's quite strange in fact, and has the power to warp your mind at times. Yet it has a broad appeal that means it can compete against the likes of One Direction.
"What clicks with people is, first of all, it has those catchy melodies, just like a pop record, or a One Direction record. It's just that my music is a bit different and I put a lot of time into finding the right sounds," he says pointedly.
"I also think the kids, they were getting a bit bored with the same old shit, maybe? They wanted something new and with guys like Disclosure and myself, to be part of that new movement of producers coming through is awesome."
Not bad for a guy who started making electronic music as a 13-year-old with a basic production CD that came as a free giveaway in a box of cereal.
"I just find electronic music, and the sound of it more intriguing. Because I've always had guitars around, which is like bread and butter, but I was always really fascinated by electronic music and how many different sounds you can make on a synthesiser."
These days he has a much more refined approach, and thinks deeply about the specifics of the sounds he is after, such as getting the right kick drum or choosing unique chords.
"And then it just works together to create something quite different and I think that's the strength of the music, that all the textures and sounds are a mystery, you know, 'What is that sound?'. They're not your stock standard sounds."
But it's all held together by his strong pop sensibility, and Flume, like Disclosure, also has a soulfulness to his music that makes it more real and tangible than a lot of other producer-driven music out there.
"My parents always played a lot of Van Morrison," he offers. "And I've always enjoyed the emotional trigger that music has with euphoric chord progressions, and I also used to listen to a lot of trance music too."
The turning point for Streten came two years ago when record label Future Classic took a fancy to some of his tracks, including Sleepless, and signed the youngster.
"I think the music did most of the work but Future Classic just had the resources, they knew the right people and the music just got propelled from there.
And they know what they're doing and they've clued me up on a whole lot of stuff," he says.
His dad, Glen, is also heavily involved in his son's career taking care of the financial and logistical side of the Flume's mini business empire.
"It's been cool, it's been like a little partnership," he says.
As well as working on new music and touring he's also diversifying, working with a company - "I probably can't say too much about it yet." - doing visuals and audio work.
So at this stage it's his song On Top, with the line "All I want in this life is a chance to do my own thing", which pretty much sums him up.
Though he says he's not an ambitious go getter, and just wants to make a living out of what he loves.
"Once I'm making a comfortable living, then I'll be happy."
LOWDOWN
Who: Flume
What: 21-year-old Australian electronic music whiz Harley Streten
Where & when: Logan Campbell Centre, Auckland, October 9; James Smith Basement, Wellington, October 11
Listen to: Flume (2012)
- TimeOut