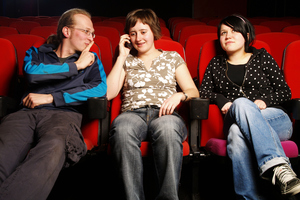 Rude movie-goers chatting or texting in a new cinema complex will be shown the door if they don't heed a first warning.
Hoyts Cinemas is trialling the strict new policy on "talkers, texters and tweeters'' at the new Metro by Hoyts in Hamilton, before rolling it out around the country.
Latecomers would also be turned away if they arrive after the main feature starts, said Hoyts general manager of operations Matthew Garelli.
Hoyts' nine other cinemas had similar policies, but they weren't consistently enforced, Mr Garelli said. But opening a new complex was a good chance to establish clear rules from day one.
Mr Garelli said lessons learned in Hamilton would then be rolled out to other locations.
The policy meant a higher level of staffing to check each screen "quite aggressively''.
"Usually cinemas will check on a regular basis but we've really stepped that up. If there's a problem, we'll leave someone in the cinema to monitor it.''
Staff had been trained on how to eject rude patrons, and were "100 per cent'' behind the policy, he said.
Latecomers would be turned away after the main feature had started, with pre-booked tickets refunded.
The policy was in response to regular complaints, with texters the biggest irritation for movie-goers, Mr Garelli said. "Everyone's got a smart phone and because the screens are so big it's so bright. In a darkened environment it becomes a real eyesore for everyone else.''
Mr Garelli said teens during school holidays were generally the worst-behaved patrons.
Other cinema operators were also tough on cellphones and talking, but not lateness.
Carmen Switzer, general manager operations for Event Cinemas, said patrons would be asked to leave its cinemas after a first warning for phone use or talking.
But patrons were rarely kicked out, as one warning was usually enough.
"We do cinema checks so if somebody is texting or obviously using a cellphone, staff will ask them to stop, and if they don't then ask them to leave,'' she said.
"We also really rely on people in the movie to let us know if there's disruptive behaviour.''
Event Cinemas, which has 14 locations including two Rialto complexes, had no plans to shut out latecomers.
"If they have a ticket to the film, they're entitled to enter when they arrive,'' Ms Switzer said.
James Gates, manager at Auckland's Capitol Cinema, said they didn't have a policy on bad behaviour and didn't need one.
"We don't enforce it because we don't need to. It's self-regulating here and people just wouldn't stand for it.''
Latecomers were an inevitable part of the cinema experience, he said.
"We're an urban cinema and people are often stuck in traffic so we're pretty sympathetic to people being late.''
- APNZ