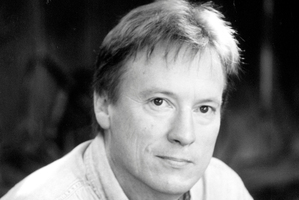 Karlheinz Company launched Sunday's Spring Forward concert with a star turn - the riveting Jennifer Maybee in John Cage's Aria for solo voice. This 1958 work trusts the performer; the printed score is a series of coloured squiggles, allowing short multi-lingual gestures and fragments to be taken through an array of vocal stylings.
Maybee never betrayed the composer's trust. Her timing was faultless, with a wicked sense of humour. Moods flashed from glee to fury, sexy to waiflike; the soprano was Callas one minute, a diva from the Peking Opera the next.
Flautists Uwe Grodd and Abigail Sperling played Cage's 1935 Three Pieces, balancing the blithe cheerfulness of the first with invasive dissonances in the third. The duo would return after interval for John Elmsly's 1992 Soft Drop II, written to mark Cage's passing.
The rescored version floated diaphanous textures and sometimes mischievous motion over the hypnotic groundswell of four notes, CAGE, hummed by the audience.
Clarinettist Kenny Keppel introduced himself with the Kiwi classic for this instrument - Peter Scholes' 1987 Wireless.
This runs the gamut of sound exploration for its time, with high altitude shrillness and trenchant multiphonics, or coaxing arpeggiated balm out of murmuring key clicks.
Keppel's second star turn was the grand finale - the premiere of Jonathan Mandeno's Le Tribolazioni di Pulcinella, a musical enactment of a Commedia Dell'Arte theatre.
Emerging from behind a screen, the masked Keppel was a swaggering anti-hero, with a licorice stick that laughed, shrieked and cajoled. A sly wolf-whistle led into an oily flirtation with Alex Taylor's Columbina - all five string players played their part to the hilt, with drummer Laurence McFarlane adding cabaret tang.
Mandeno's music is deft and witty, with the smell of greasepaint and zest of a classy cartoon. Cheers also to conductor John Elmsly, holding this web of musical intrigue together, as he has over three decades of this important ensemble's existence.
Contemporary classical review
What: Karlheinz Company
Where: University of Auckland Music Theatre