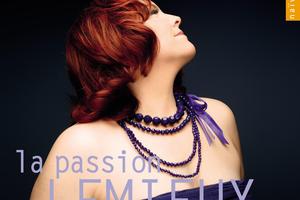 The gutsy Canadian diva is not afraid of a near-guttural outburst to make a point. Marie-Nicole Lemieux's La Passion Lemieux is a sampling of the singer's art, drawn from seven years of recording, graced with a booklet essay that has the breathlessness of a literary fan letter. "Who are you, Marie-Nicole?" is the starting point and Andre Tubeuf concludes that Lemieux must "plunge below her own surface, towards her own depths".
Tubeuf's prose may not sit easily in English, but his adulation of the Canadian contralto is totally warranted. The proof lies here in a generous 17 tracks of music. The first, one of Handel's rage arias from Giulio Cesare, highlights the burnished contralto tone that separates Lemieux from mezzos who take on this territory. The gutsy diva is not afraid of a near-guttural outburst to make a point, while Alan Curtis with his Il Complesso Barocco flutter about her, seemingly in pursuit of lightning.
There are seven Baroque offerings, although Lemieux is equally terrific singing Berlioz, Massenet and Saint-Saens - Dalila's big aria floats on gossamer over palpitating strings.
My only grumble concerns scanty information. Though collaborating artists are dutifully acknowledged - including Bernard Labadie, who conducted Mozart's Requiem in Auckland this month - recording dates and lyrics remain a mystery.
Lemieux takes such wicked and nudging delight in the Duchesse Della Volta's Examinez bien ma figure from Offenbach's 1879 operetta La Fille du Tambour-Major, some may appreciate being let in on what the fun is about.
June Tabor has one of the most singular voices of contemporary British folk. At 65, she has taken on the music of Ellington and Joy Division, and balanced boisterous folk jigs with lieder-like gravitas.
Tabor's new ECM album Quercus catches her in concert in 2006, with pianist Huw Warren and Iain Ballamy on saxophones.
This is addictive stuff, ranging from the unaccompanied folk song Brigg Fair, to a haunting version of the Sinatra standard, This is Always.
Huw Warren offers a rhapsodic tribute to Dowland while Ballamy duets, note for note, with Tabor in his setting of Come Away Death. All three deliver a gently insinuating samba with Yosef Hadar's Who wants the Evening Rose?
An album to be cherished.


Classic CDs
Marie-Nicole Lemieux: La Passion Lemieux
(Naive)
Stars: 5/5
June Tabor: Quercus
(ECM)
Stars: 5/5
Verdict: The eternal art of song voiced to perfection