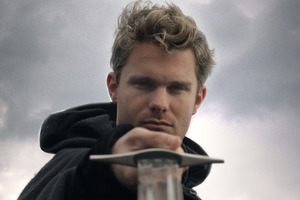 Calum Gittins is late for our interview - but he's got a good reason. A routine warrant of fitness and registration check turned into a slightly bigger deal when the police spied a large sword on the back seat of his car.
It took Gittins, 27, a moment or two to explain he is playing the titular role in Shakespeare's Hamlet and the sword is a prop he must learn to wield like an expert.
"It's absolutely exhausting," he says of the sword-fighting practice he's doing, "but it's marvellous fun. The sword-fighting scenes are usually quite dainty but we've kind of reworked them to use bigger broadswords, which suit the style we've adopted for the play."
Produced by Geoff Allen, of Galatea Theatre, and directed by John Goudge, this Hamlet nods its head in the direction of TV's Games of Thrones and is set in the icy north, akin to the location of GoT's Black Watch, where men are draped in furs and shake the snow from shaggy beards. It's the first professional production of Hamlet in Auckland for more than a decade.
One of the most memorable, at the Mercury Theatre in 1990, starred Calum's father, actor, television presenter and director Paul Gittins, as the young prince who goes mad while trying to take revenge on his Uncle Claudius who he believes killed his beloved father.
"I knew the play well," Paul Gittins recalls, "because I'd played a young and spunky Claudius before, as well as Horatio, in a school production. It's a big beast of a play and you need plenty of time with it so you know it and can wrangle it under control. It's one of the best parts a young actor can ever play and a wonderful thing to be given the chance to play it, so anyone who gets to do so should grab it with both hands.
"Roles like this don't come along very often. The important thing to remember is that it's a huge journey you go on as Hamlet and you want to take the audience with you."
Not that Dad is giving his boy any direct advice - unless it is asked for - and he laughs about what he'll say after he's seen his son perform.
"I'm not going to leap up from the audience and say anything along the lines of, 'Oh, for goodness sake - do it like this'."
Calum has his own ideas on how to play things. He'd rather not do exaggerated physical gestures to accentuate some of the base lines, but wants to highlight the more acerbic one-liners uttered by Hamlet.
He is pleased John Goudge doesn't see the need to "dress up" the text.
"A lot of people think that to make Shakespeare good you have to do something extra but, for me, first and foremost, is the text.
"Making a play is a bit like baking a cake: you have to have the right ingredients, and with Shakespeare you've got those. It's all about voice and words and that's the best way to approach it."
Shortland Street fans will recognise Calum as Jake Valentine (and Paul as the long-departed Dr Michael McKenna) but Shakespeare fans may have seen him earlier this year in the University of Auckland's 50th Outdoor Summer Shakespeare production of King Lear. After training at London's Royal Academy of Dramatic Arts he appeared in The Lord of the Rings: The Two Towers, the screenplay of which was co-written by his mother, Academy Award-winning screenwriter Philippa Boyens.
He says the training he received at the academy, and the chance to see so much Shakespeare while in Britain, has helped him prepare for Hamlet while the opportunity to work on the Summer Shakespeare was an invaluable learning experience.
He was directed by expat Lisa Harrow with Michael Hurst as artistic consultant (and in the role of Lear's Fool) and worked alongside eminent Shakespearean scholar Professor Michael Neill, who played Lear, and a number of veteran performers.
"It was such a step up to work with people with such a wealth of experience and insight into Shakespeare's work. It's given me a lot more confidence so I feel I can take on a role like Hamlet."
For Geoff Allen and Galatea Theatre, it's a chance to start immersing themselves in the world of Shakespeare before they produce next year's Summer Shakespeare at the University of Auckland. They'll stage Pericles, one of Shakespeare's lesser known works, and Allen promises it will be "epic".


Performance
What: Hamlet
Where and when: Musgrove Studio, Maidment Theatre, October 3-12