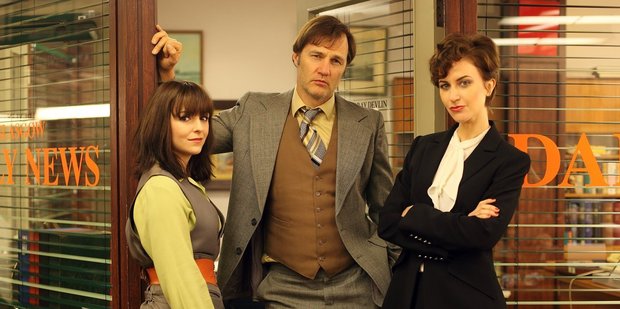 I'd love to say that The Field of Blood (9.30pm, Thursdays), the new thriller on Sky's unloved Vibe channel, is amazing. I'd love to say it's a gritty, witty winner filled with wry observation and bitter truths. I've love to say it's unmissable.
But if I'm honest I am really not sure if any of these things are true because I only got about every third word of the opening episode. It is set, you see, in gritty, witty and bitter Glasgow, circa 1984, so all of its dialogue is delivered in a gritty, witty and bitter Glaswegian accent which, try as I did, I could only understand now and then.
But I did try. Like some xenophobe in reverse, I tried turning the volume up in the hope that their shouting at me in Glaswegian might help me understand. It didn't. Then I tried running it back and listening again. Sometimes it helped, sometimes it didn't.
But like a foreigner in a foreign land, I did, after a time, get the gist of what was going on.
It appears that The Field of Blood is set in the newsroom of the Daily News, of that I can be sure.
What I am also absolutely sure of is that its a buddy drama, involving a sort of old-cop-young-cop team, only with journalists.
Paddy is a young female reporter teamed on the night watch with George, a whiskey-soaked hack who was probably there to report Jesus being nailed to a cross.
While sitting in a shitty staff car one cold Glaswegian night they pick up a police callout to the apparent bashing of human rights lawyer Vhairi Burnett.
A smarmy southerner in braces answers the door and gives them 50 quid each to go away.
Then Burnett turns up dead. Then her former boyfriend is found murdered, followed by a colleague, who appears, like her, to be working for the National Union of Miners (this is the time of the miners' strike).
At least I think that's what was going on: much of it was lost in my translation.
Meanwhile Paddy, who is played with grit and wit by young Scottish actor Jayd Johnson, is in an increasingly bitter battle with her Catholic mother who seems quite happy for her other daughter, to end her future by becoming a nun.
Meanwhile the Daily News' editor, played by the excellent David Morrissey, is having to cope with the paper being sold and the new owners being represented by an odious southern hack played by the reptilian Katherine Kelly.
There is a certain pleasure to be had from The Field of Blood for anyone who is a newspaper journalist (that would be me) because it nails newspaper culture with great precision: the owners wanting the paper taken downmarket to make more money for the out-of-town owners; the editor thinks he's doing god's work; the sarcastic, bitter and moaning old hacks; the energetic young reporters who think they know everything but don't; the crappy equipment; the crappy compromises; the drinking and smoking ...
The Field of Blood, adapted from a Denise Mina thriller, is screening just a month after it did in the Britain, which is damn good of Sky.
And it appears to have plenty of thrills - the first episode ended with George's car being fire-bombed; I hope he's all right. And the period detail, including music, is bang on. I just wish I could understand all of it, naewatamean?
Follow @nzherald_ent on Twitter for all the latest entertainment news.
- TimeOut