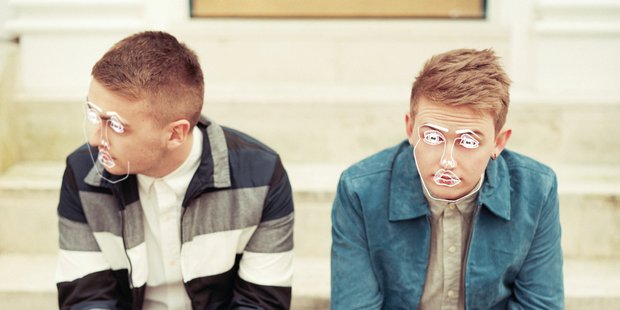 They've been touted as the most successful British dance act in a generation, having seemingly come from nowhere to dominate the UK charts, and quickly attract global audiences. And yet brothers Howard and Guy Lawrence are still only 19 and 22.
"I've been watching Jools Holland and Glastonbury since I was five, so it's a really surreal experience to be part of all those things" Howard laughs.
The pair, who grew up in Surrey, have been playing instruments since a young age - Howard learnt bass guitar, while Guy was drawn to the drums - and listening to a wide array of music to help them along.
"We grew up listening to Michael Jackson and Stevie Wonder, and a lot of American soul and funk, because we were learning how to play our instruments, and funk music was important for that.
"But in our later teens Guy got quite into American hip-hop, and I went a completely different way and got into a lot of singer songwriters, like Kate Bush and Peter Gabriel, just because I was really interested in chord progressions.
I guess that's when I got into songwriting."
Both did courses in music at college, learning the basics of how to use programs like Logic, and began messing about with their laptop, experimenting with what they could create.
"We were trying to copy people like James Blake, and Joy Orbison, just people we thought were cool, and making interesting music. But the thing is, while we were learning how to make these things, everything we were creating was being released, because we got involved with our label very early on. So those tracks [like Offline Dexterity and Tenderly/Flow] were some of the first things we ever made together, and you can definitely see a learning curve in our releases."
Their music has been given all sorts of crazy sub-genre labels, in an attempt to describe their innovative approach to electronic dance music. But Howard prefers to keep it simple.
"I say we write pop songs in the style of house and garage music."
And that is probably a key factor in their wide appeal - they write hooks and melodies as much as they write pulsating beats. Even their family, who have rather different musical backgrounds (their mother made radio jingles, their father played in bands, and their grandparents played in orchestras) appreciate their writing style.
"They're not particularly into dance music, but with a song like Latch, if you take it out of the dance music contest and just play it on the piano say, it's still quite a credible song, played acoustically, and they can relate to that, the structure of the chords and melodies. And they're really proud that we're able to make a living out of music. It's a dream."
Another key to their success has been working with well-chosen vocalists - everyone from Jessie Ware, to Jamie Woon, and of course Aluna George, who featured on their break-out number two hit, White Noise, and will be joining the pair at the Auckland Town Hall on Friday night.
"We generally just go for people who have unique voices, and some of the people on the album are friends of ours, like Jessie Ware. But there's also people on there like Ed McFarlane, who, we were massive fans of their work, and just made contact with them. It's an honour that all these people wanted to work with us."
Adding to his arsenal of talents, Howard himself sings on two songs from their recently released album Settle - even though he never thought of himself as a singer.
"I wrote both F for You and Confess To Me on the same day actually, and I was recording some guide vocals, so that somebody else could sing them afterwards - a proper singer. But then I went went away for a week or two, doing gigs, and when I came back, Guy had just completely finished the songs, with me in them. He was like, 'Yeah you're a singer now. Deal with it"' he laughs.
Who: Howard Lawrence, the youngest brother behind Disclosure
What: Debut album Settle
Where and when: Sold out show at the Auckland Town Hall on Friday night