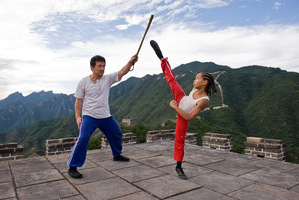 TVNZ has admitted it was inappropriate to broadcast a condom commercial during a family movie.
The advertisement for Durex Mutual Climax condoms and Durex Perfect Slide gel was played during a screening of The Karate Kid, prompting multiple complaints to the Advertising Standards Authority.
The advertisement showed two record decks playing side by side at different speeds, and contained the words: "Speeds her up. Slows him down. Get in sync with Durex Mutual Climax condoms."
One complainant, A Stratton, said they did not want to explain Durex's products to their young daughter, while the authority said other complainants shared similar views.
In response, TVNZ said the commercial was rated with an AO certificate, and was screened after the adults only viewing time of 8.30pm.
However it accepted the placement was inappropriate during a movie which was rated PGR and started at 7pm, and was likely to attract a younger audience.
"Manual checks of the advertising log for this day should have picked this up and this TVC should have been swapped out to ensure the advertising was relevant and appropriate."
TVNZ was genuinely concerned about the distress caused, and upcoming programming of 7pm Sunday night movies had been checked to ensure no similar instances occurred.
The Commercial Approvals Bureau said it was satisfied the ad's AO rating was appropriate, and the only issue was its placement during a family viewing programme.
The authority noted the self-regulatory action taken by TVNZ and its genuine concern at the distress caused, and found it would serve no further purpose to refer the matter to the complaints board. The complaint was settled.
- APNZ