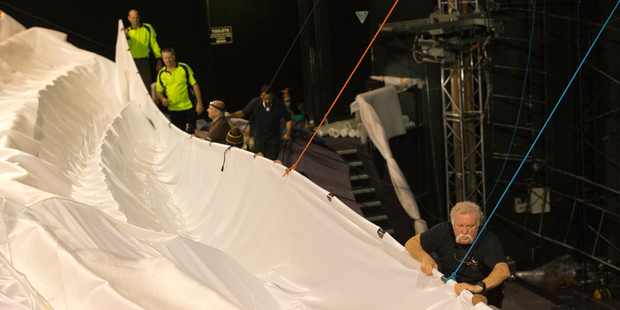 New Zealand's largest movie screen has been replaced, part of a months-long upgrade at Imax Theatre.
The theatre's five storey-high (27m x 25m) screen, thought to be the fourth largest movie screen in the world, was hoisted into position at the Event Cinemas building, in Queen Street.
The screen, which resembled a giant bed sheet before placed in position, received four coats of silver paint - a process using an automated painting rig from overseas.
Event Cinemas' area manager Steve Kimi said the new screen is part of an upgrade which has included installation of digital projection equipment and an improved sound system with better speakers. The digital projector was delivered by helicopter, lowered through a trap door in the roof of the theatre.
"There will be further improvements aimed at making the theatre more comfortable, new seats and carpet."
Patrons would notice a far greater variety of both 3D and 2D movies, thanks to the conversion to the digital format.
Mr Kimi shrugged off the cost of the makeover, saying this was commercially sensitive.
"As always at the movies it's more about delivering a magical experience and we're really excited because we feel we've further enhanced that," he said.
Projectionist Bruce Blackley said the new digital projector will be an improvement on the once revolutionary 70mm film format, developed in Canada by the Imax Corporation.
"In its day this produced a sharp picture 10 times larger than 35mm film, but the new technology will be something else again".
Old favourites, such as previously screened 25-minute Imax documentaries, are proving popular with school groups.
New material includes popular contemporary features shot in Imax 3D - films matching the 3D effects delivered in the last two Batman movies.
"These can now use the full breadth of the screen - the effect is absolutely mind blowing."