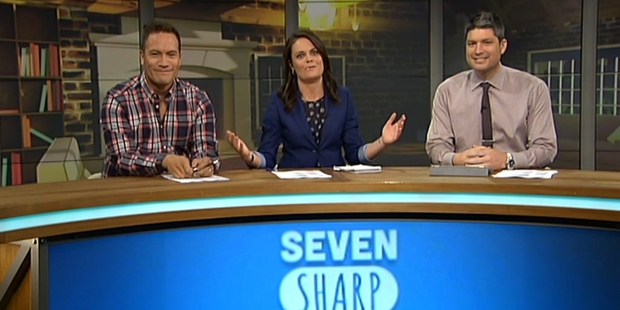 "It's not an age issue," I tell people who question my dismissive snorts about TV One's weeknight current affairs show Seven Sharp. "It's a stupidity issue."
And Seven Sharp might well be drifting even further into the stupid sea since co-front person Greg Boyed jumped ship recently to bob back to the relative seriousness of news reading at the channel.
We should, of course, bear in mind that Seven Sharp's remit has been to lighten, brighten and youthify the golden but difficult apres six o'clock news slot.
This has mostly meant multiple presenters and meaningless stories - the sort of lightweight magazine pieces that could screen any old time or, just as arguably, not at all.
The channel - once so beloved by the older folks - is in pursuit of a younger audience and so the tweets and texts of this audience are scrolled helpfully across the bottom of our screens, keeping us in touch with the random thoughts of other viewers.
I can't even begin to tell you how helpful I find this. And, to further brighten things up, Seven Sharp has those three presenters whereas Close Up, the show it replaced, had only manly Mark Sainsbury and his moustache.
The now-departed Greg Boyed presented the show alongside Ali Mau and Jesse Mulligan in a combination that never quite fired. To be honest, barky Boyed was my least favourite of the three with his over-caffeinated vibe.
Anyway, boo hoo, he's gone and so too, last week, was Ali Mau, who was bravely away on holiday, leaving Seven Sharp to conduct what felt like open auditions, with various combinations of contenders possibly trying out for the vacant seat - or seats.
Jesse Mulligan was the week's only constant factor with his thin tie and his wide smile, pleased to be there for reasons that are never quite established in a show that never delivers much of note.
But Mulligan - a comic by nature - has an endearing irony, a rock in the gush of enthusiasm he had to deal with from Tamati Coffey, who popped up like he was in charge last Tuesday night.
In number three spot was Stacey Morrison, who turned out to be the week's best contender - capable, likeable and wry with it. On Wednesday, it was Mulligan, Morrison and an awkward Clarke Gayford.
Thursday was two-thirds awkward, with Te Radar, who didn't fit at all, and Heather du Plessis Allan, who's great in the field, but bossy behind a desk.
"Stay with us please guys," she said to New Zealand before one ad break. That sounded like a plea. And Friday wasn't much better with du Plessis Allan back along with Coffey.
There were generally four stories per show, though last week, of course, the America's Cup was a constant distraction, giving Seven Sharp a temporary sense of currency.
Elsewhere, there were stories about the usual nation-gripping topics - how Hone Harawira knots his tie, a long-haired guy donating his hair, a vegetable that's half tomato half spud, and a bloke who swallowed a camera to look at his insides.
"Get your dinner down before you watch this," said du Plessis Allan. "I hope it's not sausages," said Coffey.