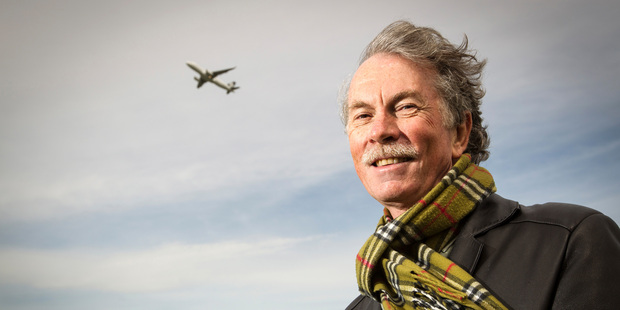 My happy place is getting on a plane. It's something I really enjoy. It's hard to get away from it all when you run your own business. I have to work so hard before I can leave to go anywhere, whether it's for business or a holiday, but when I get on a plane I know that I've done everything I need to do. I can just relax. I'll sigh this big sigh and think, "Ah, that's so nice."
All my life I've travelled. I was born in Hong Kong, I grew up in Africa, I went to university in England, lived in Germany, Canada and Australia, and, for the last 25 years, New Zealand. When we lived in Rhodesia - when I was aged 4 to 18 - we used to go back to Europe every couple of years. Back then that was a long trip, with many stops on the way through Africa. I grew up sleeping on the floor of an aeroplane - you used to lie down between the seats in those days.
But the best part of the journey is getting off the plane and getting into the car at the other end and being nearly there. I travel a lot for the Italian Film Festival, which I've been running for the past 13 years.
I go to every gala opening night around the country - and we run the film festival in eight cities.
I was diagnosed with heart disease last year, and I missed my first one in 76 opening nights - I couldn't believe it when I added it up.
I have been to all the others since, and I'm slowly getting better.
I also go to Europe once a year for the film festivals. I have a business partner whose family live in Italy, and we've met up over there after the Cannes Film Festival. Outside Rome there's a range of extinct volcanoes called the Castelli Romani ("Roman Castles"), which is where his family live.
That's another of my happy places. I just love visiting there. It's just gorgeous. Italy's an incredible country that fully deserves its reputation in terms of a place to visit.
When I get on a plane there's a sense of leaving behind everything else. I'll just relax and read a book on my e-reader. You have that sense of being free of worrying about everything, for a short time. It starts when I'm sitting in the airport, looking out the window at the plane I'm about to get on. I think, "Here we go, I can relax now."


The Italian Film Festival opens in Auckland on Wednesday and runs until October 13, with 18 films at two cinemas, the Bridgeway in Northcote and the Rialto in Newmarket. See www.italianfilmfestival.co.nz