Rafters' bad boy Ryan Corr talks life after the final season, writes Nick Grant.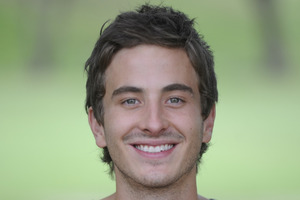 At the age of 20, Ryan Corr was already something of a seasoned screen actor when he won the role of black sheep Coby Jennings on Packed to the Rafters, after making his TV debut six years earlier in tween comedy The Sleepover Club. Indeed, it was thanks to another series he made when he was 14 that he was asked to audition for Rafters in the first place.
"I became good friends with Angus McLaren, who played Nathan Rafter, when we worked on a show called Silversun back in 2004," says Corr. "He and Pino Amenta, who'd been a director on that show and was working on Rafters, saw a bit of Coby in me and rang up to see if I'd come in and try out for the part."
Originally Coby, a Rafters relly from the wrong side of the tracks, was meant to appear in just three or four episodes, but the showrunners were sufficiently impressed with what Corr did that they paid him the "massive compliment" of asking him to continue in the role, which ended up lasting four seasons and 61 episodes.
"I was really excited to join the show, which was already established and successful when I was invited on board," he says. "It'd cleaned up at the Australian TV awards and was really well known; it was a series that sat families around the television set together, and it was a really big step in my career to be on something with such a high profile."
Playing Coby was a satisfying challenge, says Corr: "He was a bit of a battler who was really emotionally guarded and hard as nails because of his relatively abusive background. But at the same time I had a sense that here was a young man with potential for personal growth, and who wanted a better life without really knowing how to go about getting it."
The tension between Coby's aspirations and his accumulated baggage came to a head at the end of season five, with the character in prison after an assault.
"That's the ultimate turning point for Coby," says Corr. "When we see him again towards the end of the final season he's had a lot of time to reflect and realise what's important to him, so when he gets out he's got a very clear idea of what he needs to do."
As for the show itself, "aside from horribly early starts", working on Packed to the Rafters was a real pleasure, Corr says. "Everyone was really supportive and after living in each other's pockets for 12 hours or more every day, we all became really close friends - not just the cast but the crew as well. Those relationships will last a long time beyond the end of Rafters. We catch up extra-curricularly now."
When they shot the last episode at the end of last year it was with a mix of sadness and a sense of achievement, says Corr. "And we were all pleased to give the show the ending we thought it deserved, instead of letting it all fizzle out."
Now Corr is grateful for the opportunities his Rafters profile has opened up for him - he has been in three projects so far this year, including the sequel to Outback thriller Wolf Creek and mini-series Love Child, which will screen on TV One next year. Asked what kind of career he'd like to look back on, Corr says, "One with integrity, in which I've been in projects I can be proud of, where the story's greater than the sum of its parts and I'm just one of the cogs that have helped make it."
Packed to the Rafters screens Thursdays, 8.30pm, on TV One.