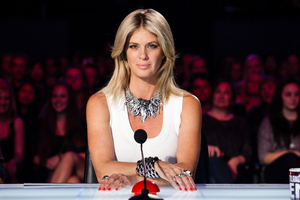 Television producers are hoping a clown who terrifies glamour judge Rachel Hunter will help woo back viewers as the most popular show of the decade struggles to match last year's record-breaking ratings.
Audience figures released after New Zealand's Got Talent returned to our screens this week revealed 611,100 aged 5+ tuned into the show, down on the record 988,600 viewers when it started last year.
It still rated as the most watched show in the evening slot but no longer out-performed all other programmes.
Television New Zealand this week played down the drop, saying it expected the audience to increase.
Head of television Jeff Latch said: "We're pleased with how it performed: it posted strong numbers and was the most popular show in its timeslot by a long shot."
Tonight's episode features a "freaked out" Hunter cowering behind fellow judge Jason Kerrison as Auckland entertainer Shaun Lines performs his disturbing Sloth the Clown stunt act.
Nielsen ratings showed on average more than half a million people aged 5+ watched the first episode, a third of the available audience.
But unlike last season it had to settle for being the fourth most-watched show of the week behind TV One's highly performing news and current affairs programmes.
Meanwhile, The Block NZ is a hit for TV3 with a 17 per cent growth in audience for the first four weeks of the show's second season - from 371,600 to 435,300 viewers.
• NZ's Got Talent, TV One, 7.30pm tonight; The Block NZ, TV3, 7.30pm tomorrow, Tuesday and Wednesday.