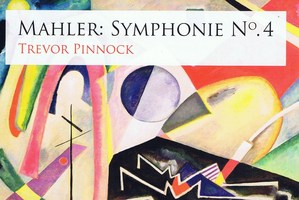 Last month, Eckehard Stier and the Auckland Philharmonia Orchestra treated us to a transcendent Mahler Fourth, crowned by Madeleine Pierard at her glorious best in its final movement.
Perhaps you have already acquired a favourite performance of this symphony on disc - I find myself returning over and over again to the perspicacious Simon Rattle in 1997 with the City of Birmingham Symphony Orchestra.
However, Trevor Pinnock's new take on the work, with the Royal Academy of Music Soloists Ensemble, will nestle nicely in your CD library.
This is the Fourth Symphony, not quite as Mahler wrote it, but using Erwin Stein's pared-down version for 14 instruments and soprano soloist.
It may seem like a wilful visit to Curiosity Corner, but quaintness was not the motive behind this downsizing.
Stein made the transcription for Vienna's Society for Private Musical Performances, a group founded by Arnold Schoenberg in 1918 as a way of presenting large-scale works within a limited budget.
If necessity is the mother of invention, then economy often brings its own aesthetic revelations, and this spacious recording provides a brilliant setting for them.
Steel yourself for a jolt when the opening sleighbells jingle away over piano chords, and don't be too surprised when a solo violin takes up the first theme.
From the start, the sheer adventure of hearing a well-known work anew is infectious. Precision gets priority with Pinnock, who allows his players to milk dynamics for all they are worth. Woodwind are sometimes daringly spirited and two keyboards - piano and harmonium - give climaxes the body they need.
The smaller forces occasionally take you into the later world of Kurt Weill and Fritz Kreisler, linking Mahler to a tradition that was not limited to Symphony Hall.
My only reservation is with Sonia Grane's fresh-voiced but ultimately characterless account of the final song.
Opening the disc, Debussy's Prelude a l'apres-midi d'un faune does not fare as well as Mahler.
Benno Sachs' arrangement is skilful, but the initial flute solo is singularly uninviting and, despite all the piano wizardry, one misses the sweep of harp.


Classical CD
Stars: 4/5
Mahler: Symphony No 4 (Linn)
Verdict: Drawing-room Mahler brings new sounds and insights.