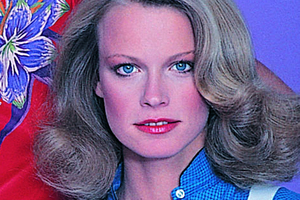 There's a lot of blaming going on in feminist circles directed towards perfume. In particular the iconic 70s ads for Charlie perfume, which I grew up with.
You may remember model Shelley Hack striding purposefully in a trouser suit in every ad. Her legs are set at that 45 degree angle that means she's not mincing, she's not strolling, she's STRIDING.
Her life, as portrayed by the commercials, involves lots of fast-paced and purposeful striding up stairs, out of cars, into restaurants, into the office, a bit of signing important documents, and generally being a very independent young woman about town. She also wore lots of cool hats.
For women my age who grew up with these ads, Charlie had a huge impact. No longer was perfume something you dabbed on to attract a man from across a crowded room. Here was a perfume which was just for you, and your newfound feminist freedom.
Rive Gauche followed up in the late 70s with a similar approach of a woman driving a fast car while the lyrics "she's so contemporary, she's having too much fun" played underneath. "She's not sitting at home by the phone, nothing like the past," it continues.
And in French the catchline was "n'est pas un parfum pour les femmes effacees", which means "not a perfume for the woman erased". What woman wouldn't respond to that message?
The 70s were also the time of musk oil and this perhaps had something to do with Jovan Musk Oil's tag line which was: "The only musk oil dedicated to the proposition." Wow.
But back to the feminists who are unhappy about Charlie. Apparently she gave us too much hope. Let's not forget that women wearing trouser suits in the 70s was still a very new thing. When I joined the staff of this newspaper in the mid-80s, women had only recently been allowed to come to work in a pair of pants. I'm not sure what the rules were on striding while wearing pants, but I certainly did plenty of it and never got reprimanded.
So here was advertising that told women they could have jobs that involved signing things and at the end of the day hot men would be there to buy you drinks.
And the problem with that is? I agree with the feminists that setting up a Charlie life expectation might have put too much pressure on young girls like me, but I'm really glad a brand spoke to me about independence rather than flowers, romance and the hope that some man will pick me up and make my life complete because of how I smell.
Today's perfume advertising has left all that social nonsense behind.
If you are tempted to buy a perfume it will be because you want to be like Katy Perry, or Gwyneth Paltrow or Nicki Minaj. Let's talk about unrealistic expectations for a moment.
I have yet to see any of these three women looking imperfect. Gwyneth in particular gets my goat with all her fussy food eating, yoga night and day and her fabulous lifestyle. I do not for one moment believe that by spraying myself with a perfume endorsed by her, I will become her. I don't detox and I'm not macrobiotic for starters.
But that is what the advertisers think, otherwise they wouldn't do it.
As a supportive wife I should really wear a perfume that my husband approves of. It should be something he likes to smell, and by association will want to smell me more and more and find me really attractive.
But the only time he has ever said "mmm that smells nice" is when I rub some rose and calendula cream on my face, which leaves me smelling like a cross between an old woman and cup of herbal tea.
Lancome's exhaustive research reveals that what women really want from a perfume is happiness. Its new advertising for La Vie Est Belle (Life is Beautiful) features Julia Roberts pulling off the diamond strings of convention on her wrists and walking off, a free and happy woman. No longer do we have to be someone, we can just be. I think I preferred Charlie.