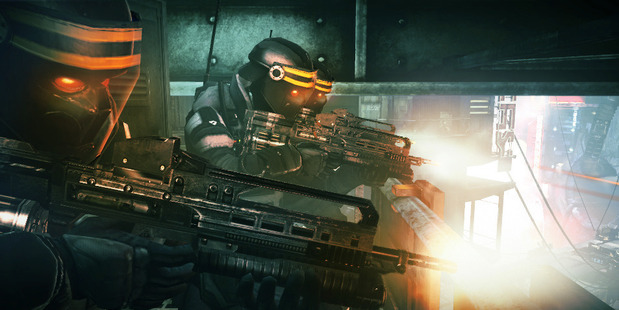 Perhaps it's when you're rapelling down the side of a bombed out building, taking in the glorious post-apocalyptic scenery as giant space cruisers swoop and soar over a sunrise.
Maybe it's when you're armed to the teeth, flanked on all sides by Helghast enemies, seamlessly firing at those in front of you before spinning around and lobbing grenades at another group behind you.
Or, more likely, it's when you've snuck up behind one of the sinister orange-eyed soldiers, stuck a knife in his neck and then been forced to turn your head to avoid the gruesomely detailed blood splattering across your screen.
There's a moment that will come to you when you're playing Killzone: Mercenary - the second hand-held adaptation of the PS3's popular first-person-shooter series - when you realise that this isn't just the best FPS available for the PSVita, it might just be the best game available for the underused, underrated console.
That's because it pushes the Vita's graphics engine further than any game before it, with beautifully rendered buildings, majestic scenery and minutely detailed enemies.
It also makes full use of the Vita's intimacy. Whether you're creeping around behind the bad guys, or taking them on with all guns blazing, you'll feel like you're actually there doing it.
Even better, the story isn't just a carbon copy of previoius Killzone releases. Set between the events of Killzone 1 and 2, you'll play as available-for-hire mercenary Arran Danner.
And get this: For the first time, you'll be able to play on both sides - the good guys, and the bad ones. Because you get rewarded with money and weapons, Danner has no qualms about whose side he's fighting for.
It makes for an often exhilerating adrenaline rush that, despite all that killing getting a little repetitive at times, gives FPS fans a reason to invest in a Vita.
Let's hope it's the start of something special.
Score: 4/5
Platform: PSVita
Rating: R16
* Win a copy of Killzone: Mercenary here.
- nzherald.co.nz