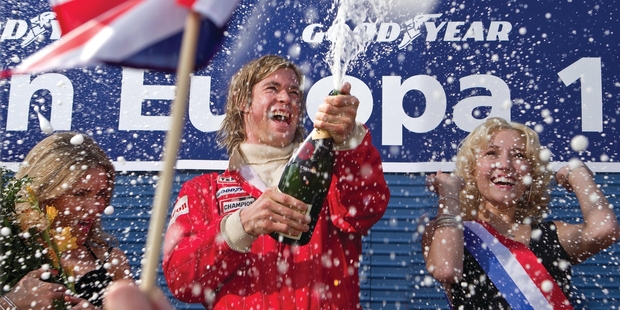 The worry with this drama set against the world of 1970s Formula 1 is the man behind the steering wheel. Director Ron Howard might have done some hot rod things in George Lucas' American Graffiti just before he became Richie Cunningham of Happy Days. And his own feature directing debut was 1977's Grand Theft Auto.
But as his movies got bigger, for a man who started out in cars, he sure became one of Hollywood's most pedestrian directors.
Still, he's risen to the occasion when it's come to manly character studies set against history, as in the likes of Apollo 13 or Frost/Nixon.
And that's the case with Rush, a compelling if slightly leaden account of the rivalry between drivers James Hunt and Niki Lauda as the pair rose up the racing ranks towards the fateful 1976 Formula 1 season when the Austrian, the reigning champ, crashed at Germany's Nurburgring.
Pulled from the the flaming wreck, Lauda returned - heavily scarred - six weeks later to try to claw back the series lead Englishman Hunt had gained in his absence.
History knows whether he did that or not. Fortunately the movie figures out a way to make you hope he will take that chequered flag all over again and the last half of the movie seems to run on a smoother, gruntier gearbox than the one powering the opening laps.
The script of Peter Morgan - who wrote Frost/Nixon among other less velocity-dependent movies - might neatly delineate the rivalry between Lauda, the Austrian efficiency expert and Hunt, Grand Prix's answer to Austin Powers, but it still runs a little rich at times.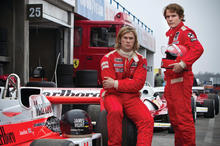 There's a scene in what's the final peacetime encounter between the pair that sounds as if both are reciting the sort of homilies about their peculiar lives cribbed from their respective ghost-written autobiographies.
But largely, Rush is just that.
Firstly it's that fast car movie rarity - one that obeys and knows the consequences of breaking the laws of physics. And it has two stirling performances from its leads.
The funny thing is you might start out liking Hemsworth's Hunt - yes, it's Thormula 1! - for being the seat-of-the-pants racer and 70s swinger over Bruhl's cold, calculating Teutonic Lauda. But even before his miraculous comeback Bruhl has made Lauda all the more fascinating and his portrayal is reason enough to see this, even if a movie about two jet-setting blokes driving in circles might not otherwise require your attention.
Yes, Rush does follow the brilliant documentary Senna, which Howard has cited as an influence. It doesn't touch the spots that one did. But as a drama it's still a race car movie you don't have to like race cars - or the peculiar men who drive them - to like.
Stars: 4/5
Cast: Chris Hemsworth, Daniel Bruhl, Olivia Wilde
Director: Ron Howard
Rating: Violence, offensive language, sex scenes & content that may disturb
Running time: 122 mins
Verdict: A car racing movie that's actually about car racing. Fancy that.
Follow @nzherald_ent on Twitter for all the latest entertainment news.
- TimeOut