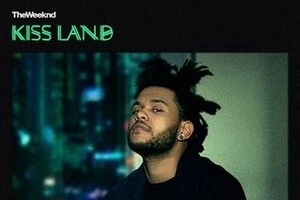 Booty jams and horror movies seem like an unlikely combination, but they're undoubtedly the inspiration behind Kiss Land, the debut album proper from The Weeknd and follow-up to three free albums released in 2011.
Their success hasn't cheered up The Weeknd (real name Abel Tesfaye). Kiss Land's atmosphere is one of awkward introspection, sexual depravation and oppression.
"I'm not a fool, I'm just lifeless too," he croons emotionlessly on Belong to the World over jackhammering beats controversially borrowed from Portishead.
There's little light between Kiss Land's various shades of grey - and it's aggressively sexist too. "You gotta pay with your body," he slurs on the stand-out title track - one of the few repeatable lines from a grinding R18 jam with stabbing throbs of bass and murderous shrieks.
Thankfully, just when it's set to become laughably nightmarish Drake steals the show with his beautifully timed flow on Live For.
More moments like that next time, please Abel.
Stars: 3.5/5
Verdict: Future-thinking R&B star's fave colour is black
Click here to buy Kiss Land by The Weeknd.
Follow @nzherald_ent on Twitter for all the latest entertainment news.
- TimeOut