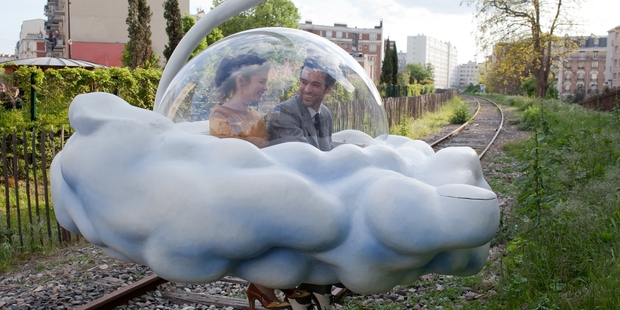 The work of music-video-turned-feature-film director Michel Gondry is an acquired taste. Films such as The Science of Sleep and Eternal Sunshine of the Spotless Mind are full of whimsy and surrealism, and to be enjoyed often require a strong appreciation for creativity and invention.
Mood Indigo, a film adapted from the cult French novel L'ecume des jours (Froth on the Daydream), by Boris Vian, is a case in point. The story centres on Colin (Romain Duris), a charming and inventive young man, wealthy enough not to work, who lives an exuberant life in an extraordinary apartment.
Colin's days are spent eating artfully created exotic dishes whipped up by lawyer-cum-butler Nicolas (The Intouchables' Omar Sy) off a dining table sitting on roller-skates. Dishes aren't washed - they roll off a conveyer belt and smash on the floor, making way for the next meal of slithering fish or decadent desserts. Cocktails are dispersed by a Pianocktail - literally, a piano that makes cocktails, and a miniature mouse-man is responsible for doing the housework. It's all terribly kooky.
At a time when CGI and special effects rule the box office it's a delight to marvel in Gondry's man-made inventiveness.
When Colin meets the woman of his dreams Chloe (Audrey Tautou in Amelie- form here) they take a ride in a glass-domed cloud floating over Paris, and for their wedding day Colin buys her a Perspex limousine. It's telling though, that the art direction, set and prop design stay with you, with Gondry's surreal world threatening to overwhelm what happens within it.
The real world does, however, come crashing into Colin's life when Chloe gets sick and is diagnosed as having a flower growing on her lung. It's a sudden dark turn in what is up to this point a fanciful romantic comedy, but it allows the actors to get beyond their quirky one-dimensional characters. The chemistry between Tautou and Duris, which had been lost in the wonderful absurdity of their world, is allowed to show as they are given something real to emote around.
Mood Indigo screened recently at the New Zealand International Film Festival and since then has been re-edited and shortened considerably. It moves along with pace, aided by a Duke Ellington soundtrack that fits seamlessly into this timeless world.
Gondry has once again produced something original and, although the performances don't achieve the same exuberance as the visuals, there is plenty to be charmed by.
Stars: 3.5/5
Cast: Audrey Tautou, Romain Duris, Omar Sy
Director: Michel Gondry
Running Time: 90 mins
Rating: M (Violence and sex scenes)
Verdict: Original and creative but a case of style over substance.
Follow @nzherald_ent on Twitter for all the latest entertainment news.
- TimeOut