Ex-SAS duo embrace NZ bush and refuse to copy Grylls' antics.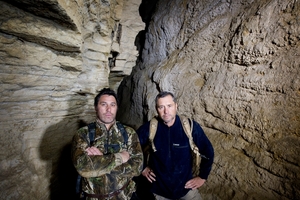 Former elite soldiers Chris Kumeroa and Barrie Rice are probably the last people you will see drinking moisture from elephant dung, plucking chewed apples out of bear poo or giving themselves an enema while on a liferaft at sea.
The hosts of Survive Aotearoa, which premieres on Maori Television on Thursday, say their new show will teach people how to get out of life-threatening situations without the extreme culinary choices British adventurer Bear Grylls takes on Man vs Wild.
They draw on their years in the SAS and security industries, common sense and ancient Maori wisdom.
Travelling around New Zealand, they recreate the circumstances of incidents involving marooned boaties, lost hikers, stranded climbers and even the plight of former navy man Rob Hewitt, who drifted at sea for three days after he was separated from his buddies on a 2006 dive trip.
Rice, who rose to the rank of corporal during his seven years in the SAS, says although the programme may not have the "shock factor" of a Grylls show, it's informative and could save lives.
"We don't do anything outrageously stupid like Bear Grylls does as far as the sensationalism goes - we don't run in the bush because all that will create is a busted ankle ... we don't squeeze the moisture out of an elephant sh** - all that's going to make you do is vomit.
"With Man vs Wild it's like you're fighting with the bush but we work with the bush, we use the spiritual side of it as it is close to us here in New Zealand."
In the show, the pair devise ways to use what is in their surroundings to find food and water, create shelter and get warm, and navigate a path to safety.
Kumeroa, who works abroad in the risk-management and health and safety industries, says the pair will also show viewers how to use local resources.
"There are plants that are both edible and medicinal and we look for when they are in or out of season."
Rice, who has been a military consultant for movies including Zero Dark Thirty and The Hurt Locker, says each of the 13 episodes is based on a 24-hour period in which the pair try to survive to better their chances of being rescued or by getting themselves out of the situation.
*The premiere of Survive Aotearoa screens on Maori Television on Thursday at 7.30pm.