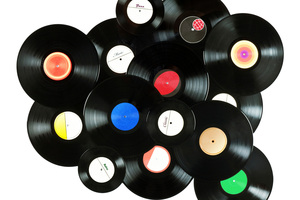 Vinyl records are storming up the charts. Amazon UK yesterday revealed Daft Punk's latest album has become its biggest-selling record ever on the site, adding to ever-growing signs that the music format once thought of as obsolete is re-entering the mainstream.
Amazon says vinyl sales have more than doubled since this time last year and Daft Punk's album Random Access Memories, released just five months ago, has already eclipsed Adele's 21 to become the best-selling vinyl ever on the site, which opened its music store in 1999.
Vinyl was once ghettoised as the preserve of only serious DJs, but sales of the format in Britain have been growing rapidly over the past few years and the value of the vinyl album market increased from £3.4 million ($6.6 million) in 2011 to £5.7 million last year, according to the Entertainment Retailers Association (ERA).
The ERA also found that independent record shops, which account for 50 per cent of all vinyl sales, saw a 44 per cent increase in album sales in the first half of 2013.
Paul Firth, the head of music at Amazon.co.uk, said: "There's the obvious impact of one very big release this year - Daft Punk - but beyond that there's a general support for vinyl amongst the labels right now.
"Most big releases come with a vinyl edition now, which hasn't always been the case.
"If you look at our vinyl chart right now, four of the top five albums are new releases and the other is a pre-release that's just been announced - the Rolling Stones' live album from Hyde Park."
The format has come back into fashion thanks to initiatives such as Record Store Day, started in 2007, and the move by trendy retailers to stock records, and Firth admits this has played a part.
"There is an element of it being trendy," he says. "The very fact that in the Daft Punk videos they feature the vinyl very strongly shows that actually it can have a fashion element to it."
Nigel House, who works at record shop Rough Trade West in London, says: "We've always sold a lot of vinyl but in the last couple of years it's been noticeable. The price of it is quite expensive but people don't seem to care."
Gennaro Castaldo, a spokesman for record industry trade body the BPI, says they see two main types of vinyl fans: "There are baby boomers who grew up with it all their lives and there's a generation of younger kids who see it as sort of an art form to be coveted and collected."
Castaldo worked at HMV before joining the BPI and says he saw a similar rise in interest in the mid-00s with the popularity of bands like the White Stripes, the Strokes and the Arctic Monkeys - "a lot of those bands see vinyl as a badge of honour".
Firth says rock music is the most popular genre of vinyl bought on Amazon, with David Bowie, Black Sabbath, Vampire Weekend and Led Zeppelin all among the top 10 bestselling vinyls of the year so far.
And, incredibly, vinyl sales even outperform CDs. While sales of the format surged 15 per cent last year to reach their highest level since 2004, CD sales declined nearly 20 per cent.
It's the same in the United States, where sales of the format rose 33.5 per cent in the first half of the year.
But despite the figures, vinyl is still a niche product. British album vinyl sales last year were 389,000, against CD sales of 69.4 million. Amazon did not disclose specific sales numbers but Firth indicates sales on the site are still in the thousands.
Castaldo admits vinyl is still less than 2 per cent of all music sales, but adds: "The industry feels there could be very optimistic times." It seems the long player may have life in it yet.
- Independent