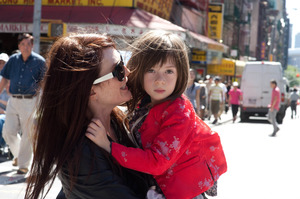 The stunning picture of young Onata Aprile on the poster tells you so much about this movie. Tightly framed between two adults, her character Maisie stares directly at the camera, oblivious to them yet completely open in her gaze. Co-directors Scott McGehee and David Siegel found the perfect starlet for a film about the ways parents can use their children to punish or manipulate each other, all the while unaware the child knows more than they realise about the situation. Maisie sees and hears it all, quietly bewildered but with a dawning understanding that they don't really see her at all. It's a subject that will resonate with many, especially with Aprile's pure performance tugging at the heartstrings. She is phenomenal, and yet again proves how raw and real child actors can be.
Julianne Moore and Steve Coogan are understandably annoying as Maisie's bickering parents and True Blood's Alexander Skarsgard and Joanna Vanderham are simply lovely as rays of light and love in the little girl's life. The pace of the film is patchy and it was a poor idea having 52-year-old Moore pretending to be a rock singer, even if she is backed by The Kills.
However, as a film recalling Kramer vs. Kramer, it's a thought-provoking, emotionally engaging movie.
M; 99 minutes. Out now.
Stars: 3.5/5