Film critics are running out of adjectives to describe upcoming blockbuster Gravity, which one reviewer calling it "the film that cinema was born to make".
Starring Sandra Bullock and George Clooney and directed by Alfonso Cuaron, Gravity tells the story of three astronauts who are flung into space when they're hit by debris from a destroyed Russian satellite while working on their spaceship.
Reviewers have heaped so much praise on it, it was yesterday running at 100 per cent on review aggregate site Rotten Tomatoes - although that has since dropped to 96 per cent.
Twitch reviewer Jason Gorber called it "an experience like no other" and called it an "instant classic".
"It is the type of project that reflects just what cinema can do that no other art form can, and it does it in a way that no other film has done before," he said. "Gravity is the film that cinema was born to make."
They were sentiments echoed by The Hollywood Reporter's Todd McCarthy, who called it the best space movie ever made.
"At once the most realistic and beautifully choreographed film ever set in space, Gravity is a thrillingly realised survival story spiked with interludes of breath-catching tension and startling surprise," he wrote.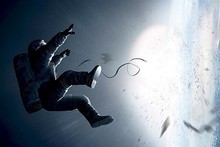 "Not at all a science fiction film in the conventional sense, Alfonso Cuaron's first feature in seven years has no aliens, space ship battles or dystopian societies, just the intimate spectacle of a man and a woman trying to cope in the most hostile possible environment across a very tight 90 minutes."
The Guardian's Xan Brooks wrote: "A brilliantly tense and involving account of two stricken astronauts; a howl in the wilderness that sucks the breath from your lungs."
Time's Tom Huddleston was one of the few critics with something negative to say - but still gave Gravity a four-star rating.
"This isn't just the best-looking film of the year, it's one of the most awe-inspiring achievements in the history of special-effects cinema," he wrote.
"The first half is close to flawless ... So it's a shame that - as is so often the case with groundbreaking effects movies - the emotional content can't quite match up to the visual."
Gravity releases in New Zealand on October 3.
- nzherald.co.nz