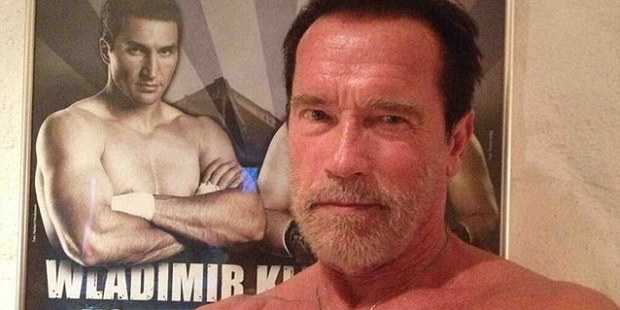 Is this the beginning of a bro-mance?
Action hero and former muscleman Arnold Schwarzenegger and boxer-turned-actor Wladimir Klitschko have swapped shirtless pictures of themselves on Twitter.
The muscle match-up began last week when Klitschko, 37, posted a photo on his Twitter account showing him imitating Arnie's classic body-building pose in front of a vintage poster of the star in his heyday.
Smiling broadly, the 6ft 6inch Ukrainian flexes his perfect pecs for the tribute image.
And it seems Arnie has been the gold-medal winning boxer's idol since he was a child, because he added the message: "Trying to catch u since I'm 12."
Arnie replied: "Great shot! It's fantastic to see one of my favorite champions nailing my pose."
Adding 'Right back at you,' he shot back a topless pic of himself doing a Klitschko impression in front of one of the boxer's old fight posters.
The 66-year-old star, sporting greying designer stubble, proved he's still well built, clasping his huge arms across his hairy chest.
Klitschko is also known for his romance with actress Hayden Panettiere, 23.
The pair dated from 2009 to 2011 before parting ways. They reunited in January but have yet to confirm reports that they are engaged after the Nashville star was pictured flashing a huge rock on her left hand wedding finger at LAX airport in August.
Meanwhile, Klitschko continues to follow in the footsteps of his hero, Arnie. The hunk, who gave up boxing to move to Los Angeles to try his hand at acting, has appeared in four pics, including Ocean's Eleven in 2001.
His latest movie, Pain & Gain, stars Mark Wahlberg and Dwayne Johnson as bodybuilders caught in a kidnapping scheme that goes wrong. It was released in April.
- The Daily Mail