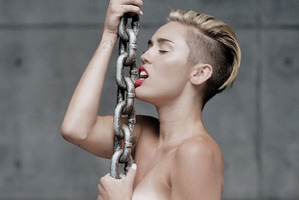 If she had been hoping that her shocking behaviour in her new video would earn her more views, Miley Cyrus' strategy has well and truly played off.
The 20-year-old singer now holds the Vevo record for the most played video in a single day after her Wrecking Ball video, released on Monday, got a staggering 12.3million views in just 24 hours.
Cyrus overtook One Direction, who previously held the record with their 10.9million views for Best Song Ever, to take the record.
It has been something of a viewing battle between Cyrus and 1D over the last few months, with the peroxide-haired singer first taking the record when her video for We Can't Stop scored 10.7million, before One Direction's Best Song Ever clip accumulated 10.9 million watches in July.
Shortly after Cyrus tweeted her excitement at breaking the record once again, the amount of people logging on to watch the video increased even more, with the figure standing at 16 millon at the last count.
In the video, a nude Cyrus straddles a swinging wrecking ball, licks a sledgehammer and smashes up a few walls for good measure.
The video comes after Cyrus' now infamous VMA performance, which saw her parade around in a bra and knickers, whilst twerking (again) and performing some other obscure movements with a foam finger.
In an an interview with MTV, the daughter of country singer Billy Ray Cyrus compared herself to Madonna and Britney Spears, who also made headlines when they locked lips during a passionate on air kiss 10 years ago at the 2003 VMAs, and she's likely to have some tricks under her belt for her first hosting gig in Saturday Night Live on October 5.
Cyrus confirmed she'll head up the landmark show and will also perform. Katy Perry will take the baton a week later on the 12th.
Cyrus - who is currently in Amsterdam - has been very busy in Europe promoting her fourth album, which is her first album with her new punk look and attitude, which is quite the 180 from the Country Bumpkin image she used to fuel her teenage career.
On Saturday she spanked a twerking dwarf as she sang We Can't Stop on German TV.
Bangerz will be release on October 8 and the album will reportedly feature a collaboration between Cyrus and Britney Spears.
* Watch the video here (warning: explicit content).
- The Daily Mail