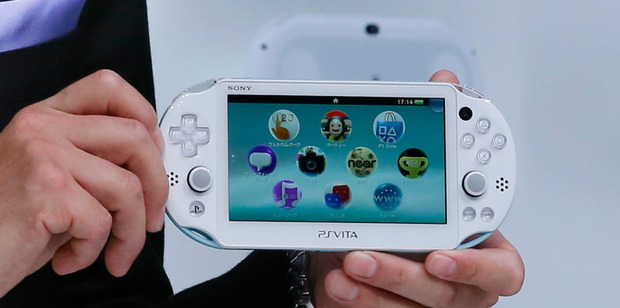 Sony have revealed details of a new, multi-coloured PlayStation Vita model, as well as PlayStation Vita TV, at a press conference in Tokyo.
To be released in pink, yellow, aqua, gold/brown, white, and black, the new model - which comes with the model number PCH-2000 - is thinner and lighter than the earlier version.
Details include:
* It's 15mm thick (20 per cent thinner) and 15 per cent lighter than the current model.
* It includes a "best-in-class" LCD screen - it's not clear if that means the original handheld's OLED is gone.
* Includes 1gb of built-in memory.
* Battery life is upgraded to be one hour longer (up to six hours play time).
* The new system features a micro USB connector, rather than the proprietary one used in the current system.
* It will cost around NZ$238 when it releases on October 10.
Additionally, Final Fantasy X/X2 Remaster, God Eater 2 and Gundam Breaker special edition systems were announced, as well as confirmation that memory card pricing is set to be reduced in Japan later this year.
Sony also announced a 64gb memory card which will be priced at around $125 when it releases alongside the new Vita in October.
The final announcement at the PlayStation conference was the wholly unexpected PlayStation Vita TV, a device that allows users to play PlayStation Vita games, remote-play PlayStation 4 games, and more, on the user's TV.
Measuring 6cm by 10cm, the pocketable device (it's a similar size to a portable USB hard disk) connects to your television and network, can stream video from various sources (only Japanese sources, which aren't applicable outside that country, have been revealed), and has a port for directly inserting PlayStation Vita games.
Priced at around $120, the PlayStation Vita TV releases in Japan first, in November.
- nzgamer.com