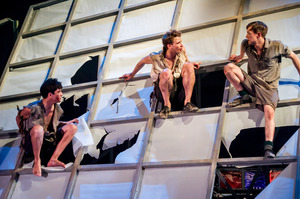 William Golding's 1954 masterpiece is lodged within the psyche of generations who encountered it as a favoured school text.
The novel offers an accessibly intelligent treatment of big themes and delivers a slap in the face to the romanticised view of childhood as a font of innate virtue.
Auckland Theatre Company's interpretation opens with a sharp depiction of the careless anarchy of a contemporary classroom where cellphones are automatically raised to record a casual piece of bullying.
The entrance into the dystopian world of marooned schoolboys is given a hallucinatory quality as a dozen Kings College choir boys fill the stage and it seems a pity that this enchanting chorus did not reappear until the curtain call.
English public school culture is convincingly portrayed with clear accents representing the nuances of class distinctions.
A more contemporary edge is provided by the grungy aesthetic of Tracey Collins' set and Eden Mulholland's haunting musical score.
The period setting creates a distancing effect that is bolstered by the portrayal of the breakaway tribe of hunters.
Their leader is played with compelling intensity by Jordan Mooney, but he switches abruptly from an upper-class prat to a deranged psychopath in an interpretation that confounds the idea that destructive brutality is present within all of us.
Leon Wadham gives a sympathetic portrait of the well-meaning but ineffectual leader and Anton Tennet captures the independent spirit of a free-thinker who separates himself from the herd mentality.
But the production really finds its feet in Zane Fleming's superb portrayal of Piggy as a working class lad who like a prophetic Jeremiah is compelled to bring the truth to his wayward community.
His pedantic insistence on the value of lawfulness brings the play to a deeply moving climax as an unshakable commitment to justice leads him to provocatively demand the return of his stolen glasses.
Theatre review
What: Lord of the Flies
Where: Maidment Theatre until September 28