Nicole Whippy and Tandi Wright are nothing like their characters, discovers Danielle Wright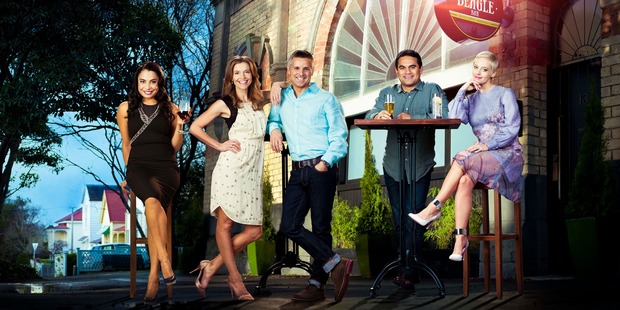 "Tits and arse with a brain and a bite," says Nicole Whippy when asked to describe her feisty Nothing Trivial character Michelle, about to return to our TV screens for a third season.
"Someone suggested she was a mix of April Ieremia and Leah Panapa," says Whippy. "But, there's no one person I base her on, although there are lots of no-nonsense producers I've met who remind me of her."
Whippy, who is playing with her 4-year-old daughter Pearl while wearing tracksuit pants and no make-up, is far removed from the character she plays but wishes she had some of her traits.
"When I was younger I was a bit more ballsy, but then I became a mother and got exposed to all the vulnerability," says Whippy. "When you're younger you can say and do anything, I feel like I've lost that part of me so it's nice to be able to have that in this role."
She says Michelle's attitude rubs off on her while filming and she finds herself becoming more adamant to producers about the way a scene should work.
"I'm not well-groomed and never wear heels so physically we also look very different," says Whippy. "But, we both love animals, are champions of women, have lots of close girlfriends and are both fiercely competitive at pub quiz night - there's definitely no talking allowed on my table, I'm there to win."
With long breaks between filming, Whippy worries about getting back into the role of Michelle, but after an hour and a half in makeup, she looks at the perfectly groomed woman in the mirror and thinks, "There she is."
"It's not me at all, but, in another life, I think I was meant to be just like Michelle," says Whippy.
"In some ways, the character fits like a glove."
Co-star Tandi Wright plays doctor Catherine, whom she describes as: "A very smart lady with a dry sense of humour. She's quite self-contained and sure of her opinion.
"She also has fantastic dress sense having lived in Paris and much better hair," says Wright, who admits to looking like "a pig dog" when she wakes up in the morning, which is hard to believe.
Wright admits she would like to be more like her character but says in real life she is more chaotic and not as certain of her opinion.
"Catherine also doesn't tend to babble, she's much more efficient than me," says Wright.
"It takes a level of bravery for me as an actor to believe that will be enough and not try to make the audience like her. In the end, a little spikiness is good in a character because no one is warm and fluffy all the time."
Catherine seems to have everything under control and Wright says if there's one person in her life that reminds her of the character it's her own doctor, who is a champion swimmer and mother to three children.
She also credits Nothing Trivial writer Rachel Lang as inspiration for Catherine because, "She's an incredibly smart woman with a beautifully sharp mind and a great love of literature."
Having played a nurse and a doctor in her acting career she says she loves the authority a doctor has and the satisfying feeling that must come from helping people and making a tangible difference in their lives.
"One of those funny things that happens while living with a character is that you carry a part of that role into your own life and test things out," says Wright.
"Catherine is more confident than I am so I've tried to be a bit more confident in real life and to realise it's not the end of the world if I stand up for my opinion," says Wright. "It's one of the joys of this job that we get to constantly tinker around with ourselves - no need for a therapist!"
This season, Catherine will be faced with having to move out of her comfort zone to move her relationship with Mac to another level.
"Our writers are so good at exploring the drama in a domestic setting, which people relate to. No one is running around with a gun, or high on P, but it's a very dramatic series based on the stuff we all grapple with each day," says Wright.
"Our audience also now has such a history with the characters so we can hit the ground running. To get to season three is a wonderful thing."
Season three of Nothing Trivial premieres on TV One at 8.30pm on Wednesday.