New show aims to capture carnage, writes Sarah Lang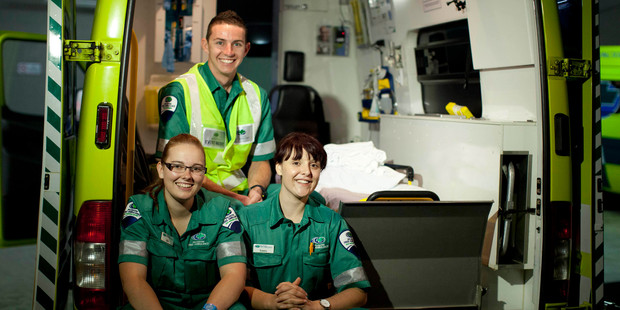 Back in my boozy university days, I was one of those girls staggering along the streets of Wellington's night-life district wearing miniskirts and too much makeup. I'm very glad that cameras weren't filming footage for reality TV back then. Unfortunately for today's youth, they are now.
Billed as an observational documentary series, new TV2 show Street Hospital is really reality TV in the same vein as Motorway Patrol, just replacing policemen with paramedics, speeding with slurring, and car chases with chunder. The 10-episode series, which debuts Thursday night, follows Wellington Free Ambulance officers who, on Friday and Saturday nights, man parked ambulances that become "makeshift hospitals".
They also patrol the streets in pairs looking for anyone in trouble.
And they find them. The first episode starts promisingly with one guy mooning the camera, another vomiting vodka from a street bench, and a girl shrieking and writhing on the pavement as she demands to be taken home to "44 Road".
Thankfully they're blurring the faces of their drunkest talent, and providing subtitles.
But paramedic student Steff is here to show we need not entirely despair of the youth of today. She pairs up with full-time paramedic Benjamin. They stand around. They eat burgers. Steff is stressed by the burger. Benjamin is stressed that Steff is stressed by the burger, given all the stressors to come.
We cut to two paramedic students nervously checking on a guy who's hugging a loo in McDonalds. "I'm from Bulls," he explains. Herded into an ambulance for an intravenous cocktail of fluids, he's feeling sorry - and sorry for himself - to a soundtrack of violin music. Hold on a sec: is his female friend really slapping him repeatedly to snap him out of it? Is Benjamin really blushing at her boob jokes? And does the narrator really keep calling him Wasted Toilet Guy?
Between all this excitement, and extreme close-ups of beer bottles and discarded high heels, it's a relief when the call comes to attend a baby being born in a bar. When the paramedics rush in, we're told one too many times that the place is empty, the fire alarm's blaring, and the lights are off - yes, we're not blind or blind drunk here at home.
Cut to an ad break followed by a build-up to the "emergency birth" ... but there's no baby's head here, just a mum-to-be having some early contractions after stopping for a bite to eat with her partner. Oh well.
The cameramen are probably gloomily contemplating a repeat night shift when a brawl handily breaks out right next to their ambulance. The alleged offender runs off, leaving a guy with a fractured arm. "This guy was trying to hit on my missis," Fractured Arm Guy explains, later blaming the booze. "Drinking, man, it's got a lot to answer for," the cop replies, sounding straight from an advert.
There's one other cursory mention of the social issue at hand. "Will they [the paramedics] make a difference to the binge-drinking culture in central Wellington?" the narrator asks early on. Um, they're giving them fluids, not rewiring their brains. As for the show, I doubt it's trying to turn around youth binge-drinking any more than The Bachelor is trying to find love for its lead. They just want to capture the carnage.
Street Hospital premieres Thursday, 8pm, TV2.