The makers of a movie about a custody battle based their screenplay on a 19th century novel, writes Helen Barlow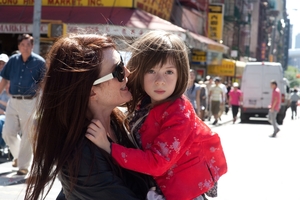 In What Maisie Knew, Julianne Moore is a rockstar mum in a joint custody drama. Moore's volatile Susanna, and Beale, her art dealer ex, played by Steve Coogan, are so self-absorbed that they aren't the best parents to 6-year-old Maisie (Onata Aprile). The stable force in Maisie's life is her nanny Margo (Joanna Vanderham) who ultimately runs off with her dad, while Susanna marries a hunky barman Lincoln (Alexander Skarsgard), who comes to share Maisie's child-rearing with Margo.
It might sound like a very modern movie but the screenplay - by Nancy Doyne and Carroll Cartwright - is based on Henry James' 1897 novel of the same name.
"It's funny because we'd read that Henry James was at a dinner party and heard about a joint custody situation, which he had never heard of before," explains New Yorker David Siegel, who co-directed the movie with partner Scott McGehee in what's their fifth film together. "It was very rare at the time, as it's more of a 20th century idea, yet the absurdity in his mind of that situation is what sparked the idea for the novel. As much as it's very common now, the emotional terrain of what that might mean for a child isn't so different."
While the directors were so impressed by Aprile's abilities that they shot her in close-up and were able to tell the story through her eyes, getting Moore to sing was another matter.
"Julie was slightly defensive," Siegel recalls with a chuckle.
"'I can't do that, I don't want to do that! I just want you guys to know right now if that's what you are expecting, I can't do that."'
The redheaded star became interested however, when they suggested she model herself on Alison Mosshart from US-UK indie band the Kills.
"The Kills' music actually connects to a deeper-roots rock 'n' roll and punk sound," explains McGehee. "We got the band interested and had these two songs, Night Train and Hook and Line, and hooked Julie up with our friend, Pete Nashel, who has composed music for a couple of our films and he worked with her and built up her confidence. When we finally shot the concert scene Julie brought so much to it. She was into it."
Moore ultimately sings the songs with the Kills.
As for Skarsgard, the True Blood star wanted to assume a more nurturing pose.
"We were interested in Alex for many of the things that he conveys as Lincoln in the movie - his gentleness, his sympathy," says McGehee. "But when he came to us he said he'd been working out a lot for the show and didn't want to seem muscular. So he brought this slightly hunched-over thing, which worked really well."
What: What Maisie Knew starring Julianne Moore, Steve Coogan, Alexander Skarsgard
When and where: Opens at cinemas Thursday
Follow @nzherald_ent on Twitter for all the latest entertainment news.
- TimeOut