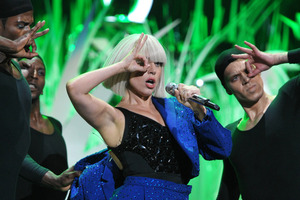 Lady Gaga has revealed that she hid in her house for years so that her fans would never see the real Stefani Germanotta.
Gaga, who leapt to stardom in 2008, has told Britain's The Guardian newspaper that the longest walk she would take was from her car to the aeroplane on the tarmac.
She could never not be Gaga outside her house.
"I hid a lot ... to preserve my image as a superstar to my fans," she said in the interview, published today.
"I don't mean I am a superstar, I mean that they only ever see me at my best. And it really drove me crazy. So I've really had to make more of an effort to go out more. I mean, can you imagine what it's like not to feel real wind? Honestly, I hadn't felt real wind for years!"
Maintaining such a perfect public presence has been hard. Gaga says she hid from her fans when she was confined to a wheelchair after a hip operation this year.
Now the pop superstar is back, to promote her latest album, ARTPOP.
She has relaxed her crazy outfits and become more comfortable outside, but said she was tired of people telling her that "she's finished".
"It's literally not even been two weeks since my first single came out and it's all, 'She's over', or because I'm not No. 1 yet, 'She's finished'.
"People focus less on the music and focus more on how the music's doing; how it's faring from a numbers perspective, from a financial perspective. If you think I give a damn about money then you don't know me as an artist at all."
She added: "I think that once you've had a few No. 1s in your career that you've kind of proven yourself and I don't feel the need to prove anything anymore."
A few weeks ago, Gaga tweeted a Michael Jackson quote: "The bigger the star, the bigger the target."
She told The Guardian: "It gives them a sense of pleasure when they believe that they've destroyed me or taken me down. It's almost entertainment for people to poke fun at Lady Gaga, but at the very same time they have no idea the album I've made."
- AAP