Tour hopes follow singer's new album, writes Paula Yeoman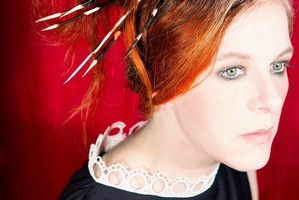 Neko Case is considered a cult hero in Canada and the US thanks to her work with the New Pornographers and solo albums such as the exquisite Fox Confessor Brings The Flood and her last, 2009's Middle Cyclone.
She also has a loyal and growing following in New Zealand. And although small in comparison, it has brought her here twice. "It costs a lot," she says of touring here. "But you guys are so nice, you're so worth it. And your food is ridiculously good. I hope you know every musician on earth wants to go to New Zealand."
It's too early to say whether Case's soon-to-be-released album will bring her back.
The American singer-songwriter certainly hopes so. But one thing is guaranteed - the wordily titled The Worse Things Get, The Harder I Fight, The Harder I Fight, The More I Love You, is bound to draw in a whole legion of new fans in this part of the world.
It's Case's most honest and in-your-face, lyrically powerful, solo record yet.
Rousing guitar-heavy tunes Man and Bracing For Sunday melt and blend into gentler, spine-tingling songs such as the a cappella Nearly Midnight, Honolulu and Calling Cards.
Then there's the menacing Where Did I Leave That Fire.
"That song is about trying to have a laugh at your horrifying depression," she says.
Case explains that the album emerged from a three-year period of grief and mourning after she lost her parents. "I never slowed down to grieve and then I paid the price. I don't want to seem like I'm saying my experience of grief was so much more poignant than everyone else's, it was actually just a super dirty, shitty, yucky bacteria-infested time that everybody goes through.
"I couldn't have made a pretty record and not have the smell lines coming off me - like the cartoon smell lines to show it was a huge bummer. I was like, well I've had a core audience for long enough, I just need to trust them and just go, 'This is what's happening you guys - here you go'.
"Some of us express our sadness with punching," Case says. "I don't really try to hide anything, I just punch at it."
Neko Case's new album is out September 6.