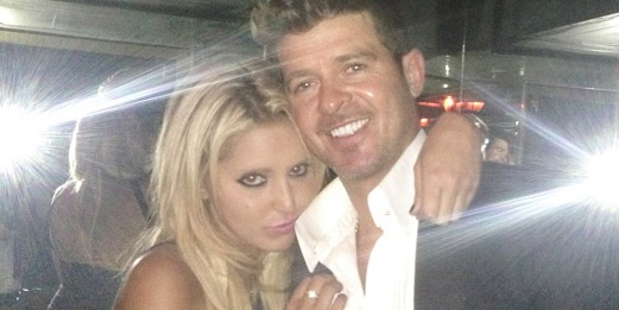 The girl at the centre of the Robin Thicke butt-grabbing saga has spoken out - claiming she wasn't expecting the uproar the cheeky photo op caused.
Socialite Lana Scolaro, a student living in New York City, posted the not-so-innocent picture of the married Blurred Lines singer groping her bottom to her Instagram page following last Sunday night's MTV VMAs.
While the heavily-made-up blonde says she was aware that the 36-year-old gave her derriere a squeeze at the time, she was surprised to discover later that it was visible in the reflection of the mirror behind them.
"I knew his hand was on my butt. I posted it on Instagram and didn't notice the reflection. But someone noticed it and commented. I was just like, 'Oh I'll Instagram this photo with Robin Thicke, like everybody else'," she told Celebuzz, adding, "I didn't think it would cause this much drama.
I didn't know it would be all over everything like this."
Indeed, the drama blew up after a Twitter user posted the photo on the micro-blogging site, tweeting it to Robin's wife, Paula Patton, 37, with the message: "Look at the reflection girl."
To make matters worse, it turns out the incident at the VMAs afterparty, held at 1OAK in the trendy Meatpacking District, wasn't the first time the pair had met.
"We have mutual friends in common. I actually met him a week before the afterparty," she revealed.
She added: "I was actually going over to the DJ booth and he followed me. His security guard took the photo and said, 'You guys make a cute couple'."
Thicke's summer smash hit, Blurred Lines, may tell the story of a man pursuing a girl in the club, but in real-life, the singer is happily married to 37-year-old actress Paula, with whom he has a three-year-old son.
So far, Thicke has remained silent on this latest controversy, happily heading off on a family beach vacation.
But perhaps the singer isn't losing any sleepless nights over the picture, as his wife was also in attendance at the party - reportedly busy herself grabbing the microphone from rapper 2Chainz to get the party started.
Robin began dating Paula 20 years ago, when he was just 16, and went on to marry her in 2005.
The couple welcomed son Julian Fuego Thicke in 2010. The picture comes after the raunchy performance a the VMAS, which saw Miley Cyrus grind inappropriately up against Robin.
His mother, Gloria, publicly denounced the Disney star, saying: "I don't understand what Miley Cyrus is trying to do. I just don't understand. I think she's misbegotten in this attempt of hers. And I think it was not beneficial."
* See the unedited photo here.