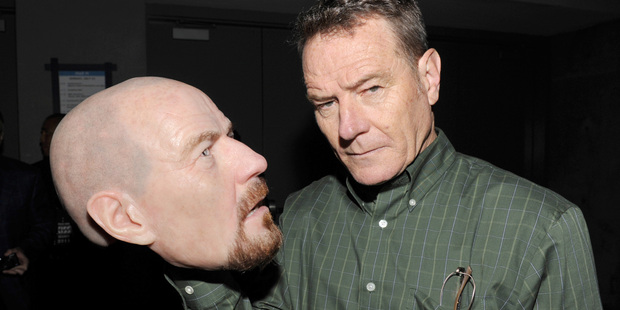 Is Bryan Cranston really set to boost his villain credentials even further?
Website Cosmic Book News boomed last week that the actor, who plays chemist-turned-meth kingpin Walter White in hit TV series Breaking Bad, has nabbed the role of Superman nemesis Lex Luthor in the Man of Steel sequel.
Per the website, the 57-year-old actor has reportedly signed a deal with movie studios for at least six appearances (and possibly more) as the supervillan.
"Cranston is truly a dream casting for Luthor," chimed a source.
No further details were given, but the website speculated that Warner Bros will make an "official announcement" when Breaking Bad finishes its final run of episodes.
Needless to say, the report led to much digital chatter, but nary a word from either Cranston or the powers that be behind the upcoming superhero sequel.
Until now.
The Boston Globe recently caught up with Cranston, and probed the actor about the rumoured casting.
"I've heard that too," he told the newspaper.
Responding to chatter that his reported casting is said to be a six-appearance deal, Cranston laughed: "Six? This is all news to me. I think that maybe my name is bandied about because I'm known to be bald. 'What bald guy can we get?'"
He continued: "The reality is they can take any actor and shave his head or put a bald cap on him."
Asked if he'd consider giving Gene Hackman, who played follically-challenged Lex Luthor in Richard Donner's 1978 classic Superman, a call "for some advice", Cranston replied: "I can just see how that phone call would go. 'Gene? Hi, this is Bryan Cranston.' 'Who? Bryan Cranston? What do you want? How did you get this number?'"
Post-Breaking Bad, Cranston will star as President Lyndon B Johnson in the American Repertory Theatre production of political drama All the Way.
He's also slated to direct an episode of Modern Family, Gossip Cop notes.
As for his other plans...
"I think I'll relax the rest of the year," Cranston said. "There's some irons in the fire, things that people are talking about, but nothing is set."
Tease.
Last month, Cranston told Metro.us that he'd be keen to play the iconic villain, and suggested that producers of the upcoming Superman movie should look him up.
"Give me a call," he said. "I like Lex Luthor. I think he's misunderstood. He's a loveable, sweet man."
Although he's up for it, Cranston added that his wife might not be so keen on him playing the bald baddie.
"She wasn't so keen on the bald head," said Cranston, who has been shaving his head for his role in Breaking Bad. "The bald head ages a man. It's just that she didn't know me that way, and the last six years it's all of a sudden like sleeping with a stranger - who was less exciting than her own husband.
"So I don't blame her for being upset."
Last week, MSN Entertainment claimed it had debunked the rumour that Cranston has been cast as Luthor.
"Bryan Cranston has not, we repeat not, been signed to play Lex Luthor in the Man of Steel sequel (aka Batman vs Superman)," noted the website.
"One look at the original story, which claims that Cranston has been signed for anywhere from six to 10 appearances as Luthor, will tip off anyone with average intelligence that this is garbage.
"For one thing, the same story claims that Ben Affleck has signed for 13 film appearances as Batman, which would probably make him around 70 by the time he finished playing the role."
British actor Mark Strong has also been rumoured for the role.
Asked by website Digital Spy in August if he was being considered to play Luthor, he said: "All I can say is ... watch this space."
Production on the Superman sequel is scheduled to kick off next year in Michigan.
Zack Snyder is returning to direct the movie, which will star Henry Cavill as the titular superhero, alongside Affleck as the Caped Crusader.
The movie is slated for release in July 2015.
Stay tuned for updates.
NOTABLE NUGGETS
And finally ...
* Scrap that: Justin Timberlake denies he said *NSync are better than One Direction.
* Kanye West banks a cool $3 million for performing at wedding gig in Kazakhstan.
* Watch: Lady Gaga debuts new ARTPOP songs at iTunes Festival.
* Paul McCartney says he has no plans to retire.
* Glee star Jane Lynch opens up about her divorce.
* Rumour has it: Pippa Middleton might be secretly engaged.
* "I read everything on the internet and I got destroyed by it. I panicked. I was unhappy because I was nervous and insecure, so I cut it off. Today I am in a healthier and happier place" - Transformers star Rosie Huntington-Whiteley on why she bailed on (and later returned to) Twitter.
* I suddenly feel VERY old: School of Rock cast reunites for 10th anniversary screening.
* Fifty Shades of Grey film lead cast revealed.
* Crikey, Zac Efron has really let himself go.

* OMG, look! Victoria Beckham eats an apple. Yes, this is news.
- Rumour Has It