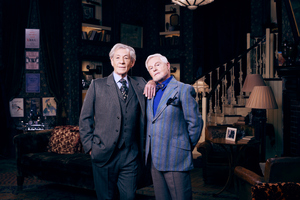 When it comes to the tricky business of making TV situation comedy, is it the situation that makes the comedy or the comedy that makes the situation?
Foolishly perhaps, I've been looking into the question over the last few days, but I'm not any wiser after catching the first episodes of a pair of new sitcom series.
One was English, one American - one alarmingly old-fashioned, the other incoherently contemporary. And neither, as it turned out, was particularly funny.
So, no comedy really, but there was certainly plenty of situation in both of them.
The situation in Vicious (TV One, Thursday, 9.05pm) is oddly, loudly theatrical and awfully English, involving a pair of ancient acting icons camping it up frightfully as they play a pair of old gay boys cooped up together in an over-furnished London flat.
Freddie (Sir Ian McKellen) is an actor on the fade and absolutely full of himself. "I killed a prostitute on Coronation Street," he boasts to one of the visitors who come and go - doubtless in a bid to liven the show up a bit.
While the other half of the pair, Stuart (Sir Derek Jacobi), was never apparently much of anything, as Freddie likes to viciously remind him, though he once harboured hopes for a modelling career.
But even the pathos is over-painted on this show where the central joke seems to hang on the fact that, though they've been sharing a bedroom for 48 years, the bitchy old boyfriends have never quite come out.
"I'm waiting for the right time," announced Stuart after a high-drama pause, arms and eyelids on full flutter.
Filming Vicious before an unseen live audience must have allowed McKellen and Jacobi to feel they were back in the theatre because everything is so over-emphasised and so shouty you might feel you want to sit in another room to watch this show.
Though I wouldn't bother. Sadly, Vicious doesn't come close to living up to its promising name, never mind its star power.
There's another sort of situation - and another sort of demographic - altogether in Happy Endings (TV2, Friday, 9pm). It's an American sitcom, which might seem a bit like Friends, with its central group of variously careless, confused and oversexed pals, some of them couples, one of them gay.
The show was recently axed in the States after this third series and I can only applaud that decision after watching last week's opening episode.
I wore a worried expression all the way through. I could feel it. I can still feel it. There's a new wrinkle up there and I blame Happy Endings.
The combination of half-formed inter-connecting storylines with lightning-strike editing and a script stuffed with 30 gags a minute made bruising viewing.
One of the show's characters kept pulling out a giant ventriloquist doll, which proceeded to out-charm the humans.
And, as was the case with Vicious and is so often the case with sitcoms, the acting was brainlessly over the top.
Though, on a positive note, I can't tell you how pleased I was when Happy Endings did finally end, so at least the title made some sense.