One Direction fans ignore lukewarm reviews to deliver $21.8 million opening weekend.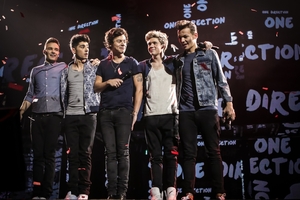 British boy band One Direction stormed to the top of the North American box-office charts this weekend, estimated figures showed on Sunday.
One Direction: This Is Us, directed by American documentary film-maker Morgan Spurlock, best known for his 2004 fast-food expose Super Size Me, earned US$17 million ($21.8 million) on its debut weekend.
The concert documentary film has generated lukewarm reviews in the United States but with an estimated budget of around US$10 million is likely to deliver a hugely profitable box-office hit for Sony.
The film deposed The Butler from the top spot, the civil rights epic based on the real-life story of an African-American butler working at the White House which is being tipped as an early contender for Oscars success.
The Lee Daniels movie, starring Forest Whitaker in the title role and Oprah Winfrey as his wife, earned another US$14.7 million, taking its three-week tally to US$74 million.
In third place was raunchy adult comedy We're the Millers, about a bogus family of drug smugglers including Jennifer Aniston as a stripper, earning US$12.6 million.
Fourth spot was claimed by Disney's animated film Planes which took US$7.7 million.
In fifth place was the comedy-drama Instructions Not Included, Eugenio Derbez's movie about a Mexican playboy who is suddenly presented with the child from a previous liaison and forced to become a father. The movie took US$7.5 million.
Sixth place was occupied by science-fiction drama Elysium, the critically acclaimed blockbuster starring Matt Damon about wealthy humans living in an exclusive outer space colony after Earth is ruined.
The film, directed by South Africa's Neill Blomkamp, added another US$6.3 million to take its four-week total to US$78.1 million.
The Mortal Instruments: City of Bones, a teen-romance demon thriller about a girl who discovers dark secrets from her family's past, dropped four places to seventh with a meagre US$5.2 million.
British action disaster comedy The World's End also slipped down the rankings, falling to eighth place from fourth last week with US$4.7 million.
Rounding out the top 10 were new entrant Getaway, the action thriller starring Ethan Hawke and Selena Gomez with US$4.5 million and Percy Jackson: Sea of Monsters with US$4.4 million.
- AAP