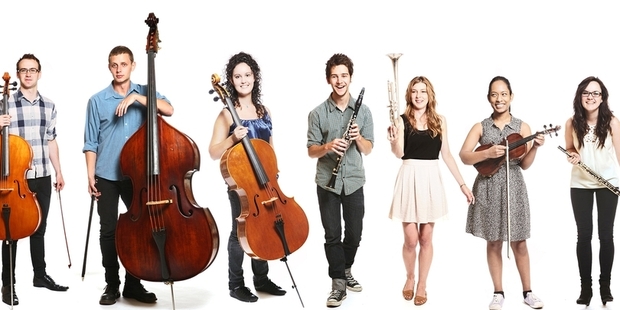 A visit from the NZSO National Youth Orchestra is always keenly anticipated for the life-affirming pleasure of seeing young musicians nurturing and being nurtured by an art that offers no easy rewards.
On Saturday, before a note had been sounded, an injudicious statement in the programme riled me - a quote from a Wellington critic hailing the NZSO NYO as second only to the NZSO in the line-up of our country's orchestras.
What a foolish and provocative comment to put before the music-lovers of this city, home of the Auckland Philharmonia Orchestra.
Even before that, I had misgivings about Saturday's choice of repertoire.
In the past, the NZSO NYO has given us John Adams and Charles Ives, as well as large-scale Mahler and Rachmaninov.
2013's pairing of Beethoven and Tchaikovsky was not as adventurous a choice as it could have been.
Tchaikovsky's Fifth Symphony is a test for any orchestra and conductor Richard Gill had problems securing an all-important textural cohesion in its first movement.
The many pages in which fragments fly around the various instruments were often bumpy, exposing thin strings and tired brass; melody and counter-melody were not always balanced.
Not every soloist had the elan that William McNeill and David McGregor revealed in the Andante cantabile.
If the third movement needed more exhilaration and sweep, then the Finale more than compensated with its full-on energy and bravado.
English pianist Lara Melda was an accomplished soloist in Beethoven's Third Concerto, injecting humour into its Finale. But why was a talented local musician overlooked?
After the concert, Gill made much of Melda's insistence on a true Largo, clocking in at almost 10 minutes. True, it was a lovely second movement, but Steven Kovacevich, for one, spends almost another minute on it.
Opening the evening, Sam Logan's Zhu Rong Fury! fitted the bill for those who want fireworks and frenzy.
The young Wellington composer knows how to use the orchestral paint box - more enticingly in curmudgeonly woodwind episodes than in what became an irritating mannerism of massive chords flaring in a crescendo roar.
Classical music
What: NZSO National Youth Orchestra
Where and when: Auckland Town Hall, Saturday